BRITISH COUNCIL INTERNATIONAL ACTIVITY - I
BCM MODEL UNITED NATIONS CONFERENCE 2018 - CLASSES : VIII - XII [MONTH : MAY - 2018]
BCM MUN Background Guide
GLIMPSES OF BCM MUN 2018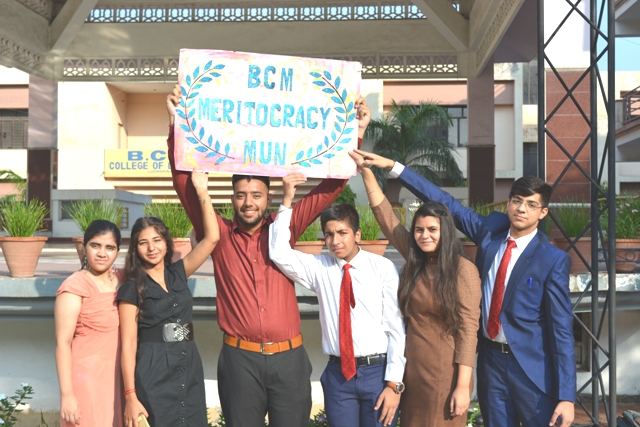 Glimpses of BCM MUN 2018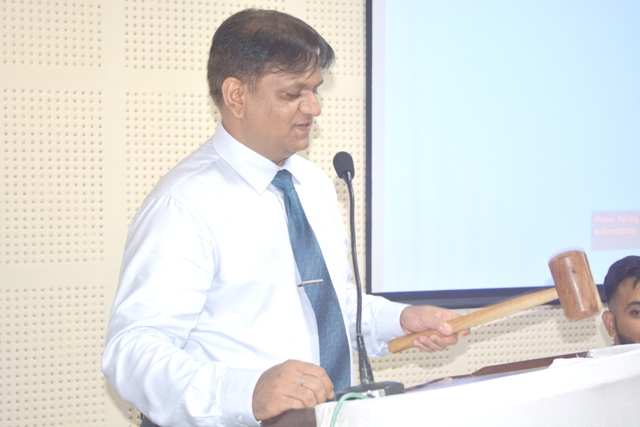 Principal Sir declaring the MUN Conference Open….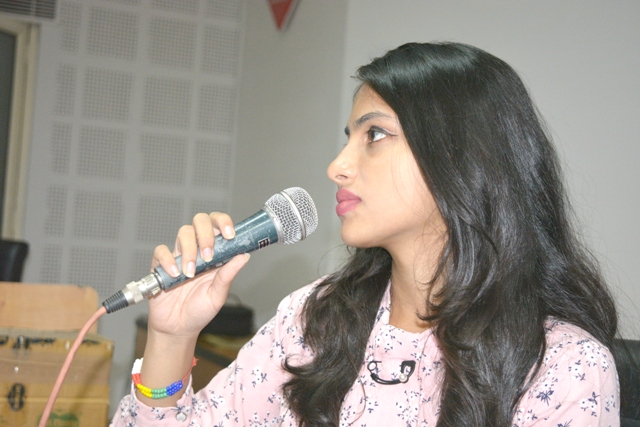 Ms. Sanjhali, the Chairperson of UNHRC, guiding the delegates about different protocols & ROPs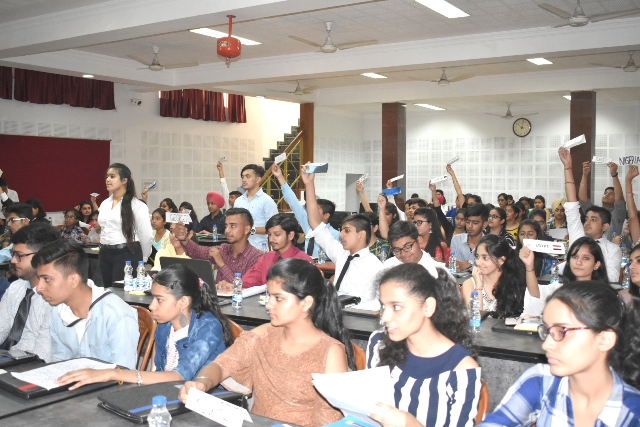 Delegates raising their placards in UNHRC Committee (Global issue: Countering Problems Faced by Asylum Seekers, Refugees and IDP's'.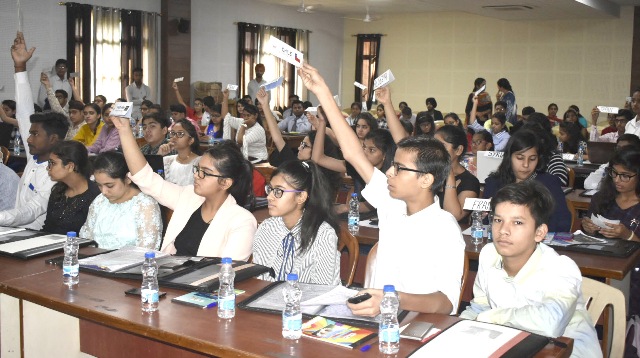 Delegates trying to raise different motions in DISEC Committee(Global issue: 'Nuclear Security Concerns')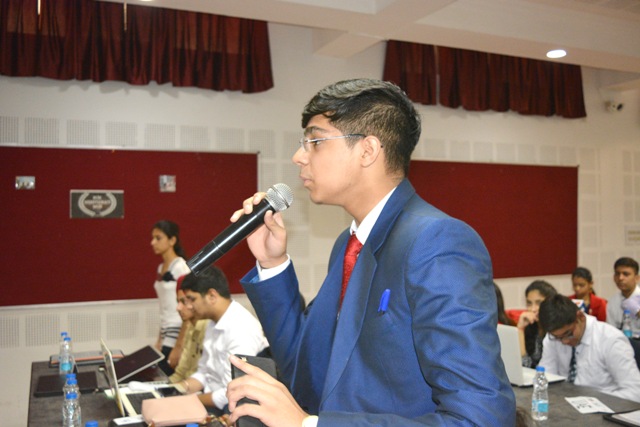 Delegate of Russia debating in the Committee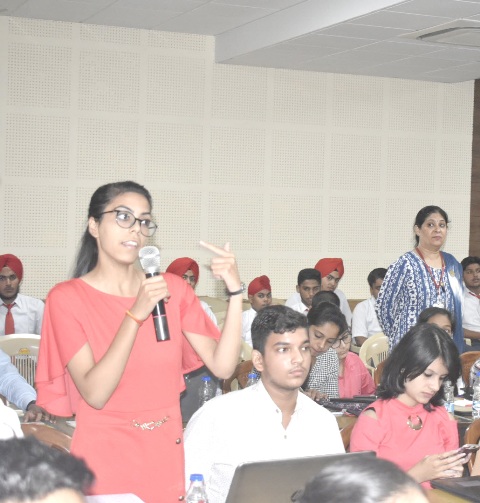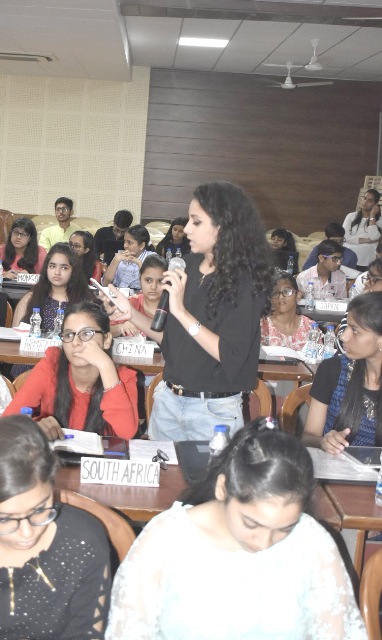 Delegate of USA & Africa defending their country on the the global issues taken up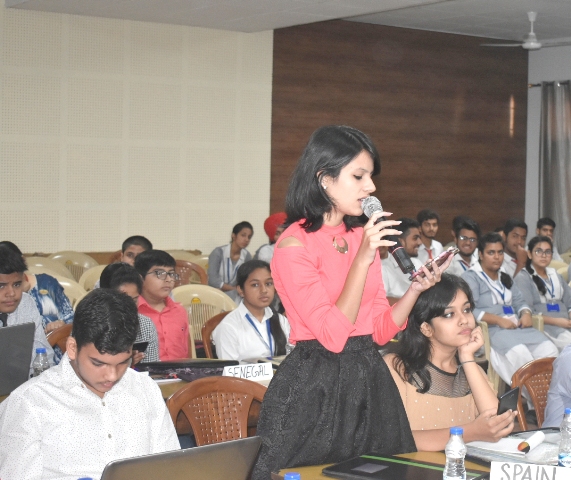 The delegate of Spain putting allegations on other countries.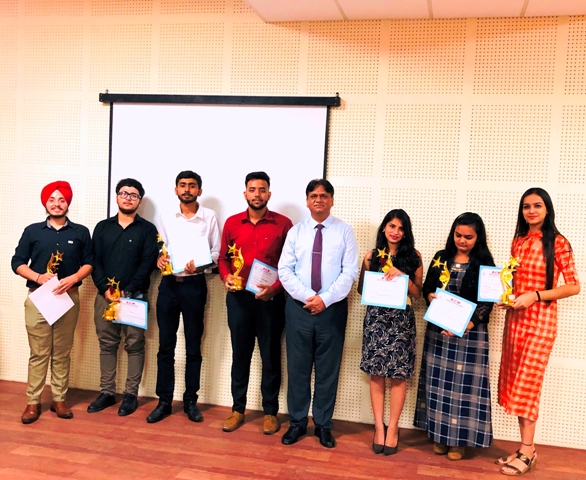 BCM Alumni as the members of Executive board in BCM MUN 2018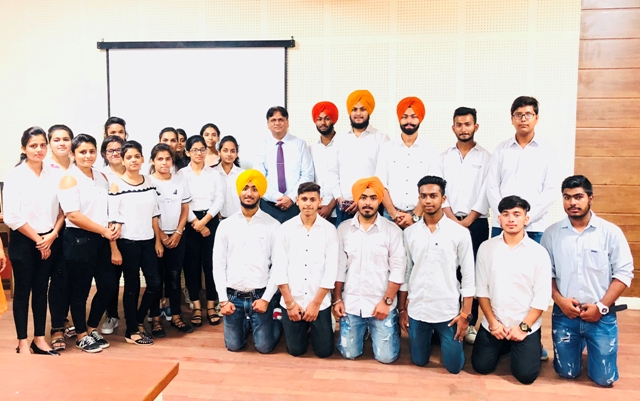 The meticulous & hardworking organizing committee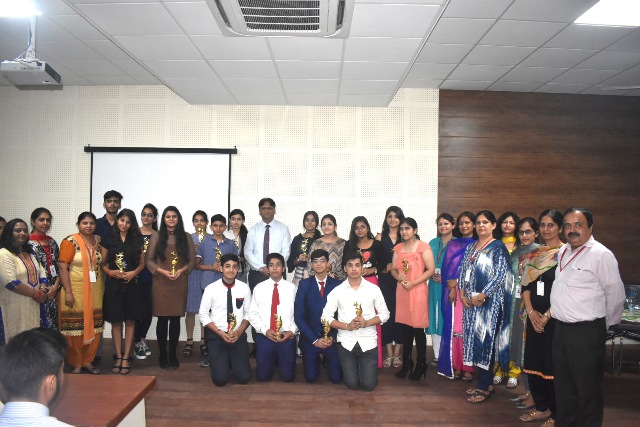 Awardees of DISEC committee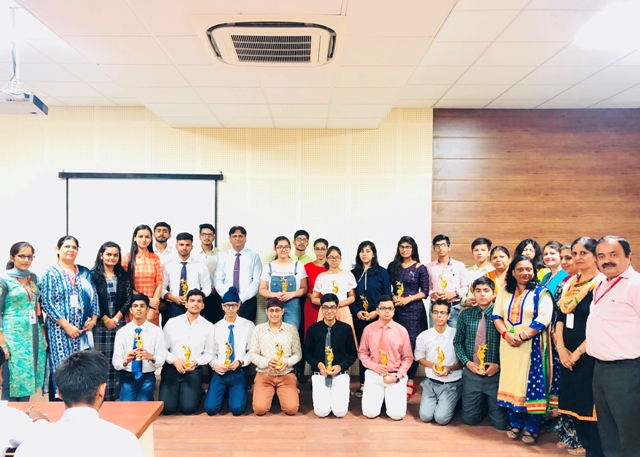 Awardees of DISEC committee
MEDIA COVERAGE OF THE ACTIVITY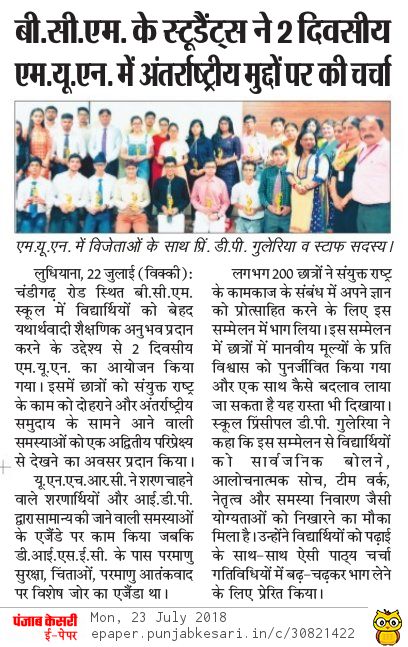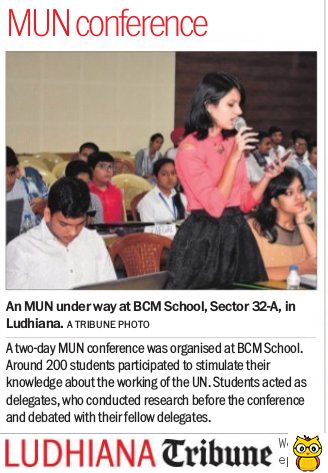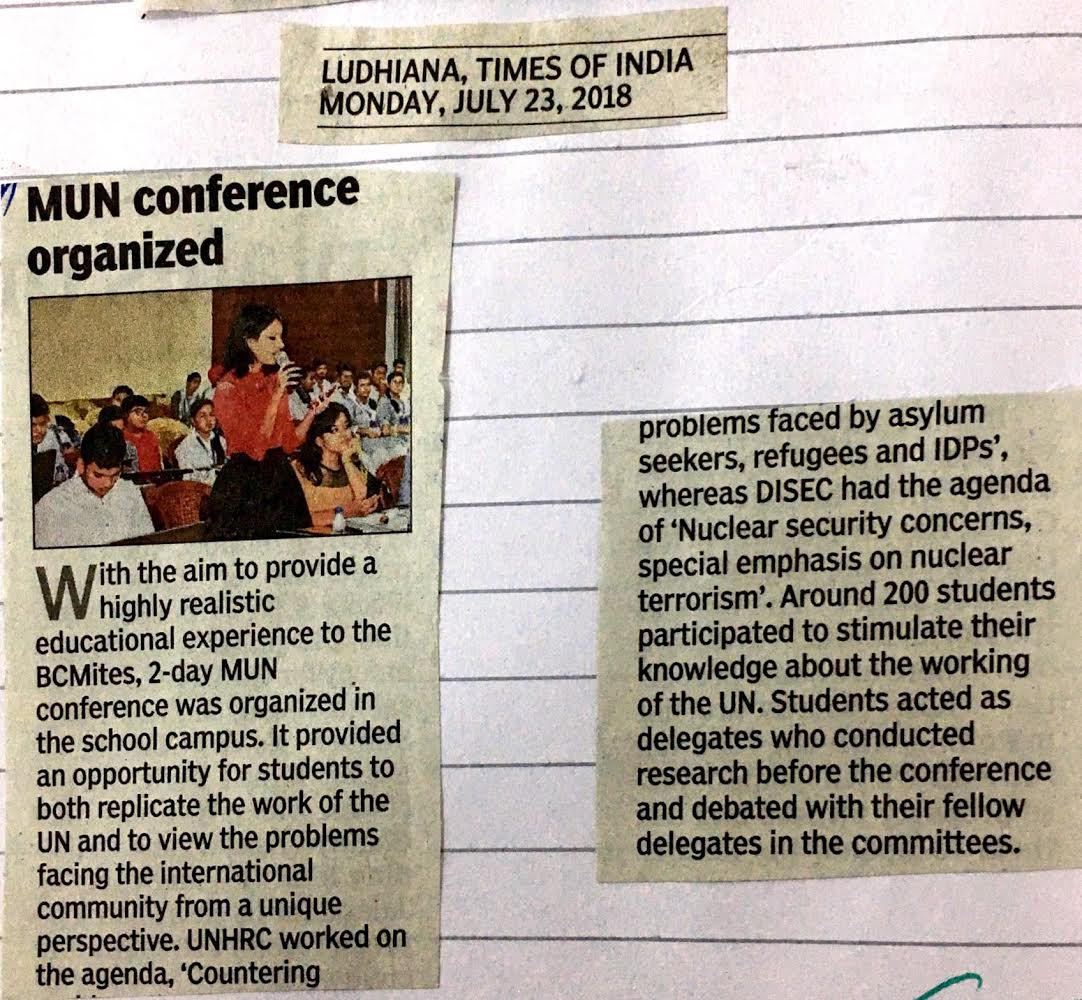 BRITISH COUNCIL INTERNATIONAL ACTIVITY - II
WATER : SOUL OF THE EARTH - CLASSES : VI - VIII [MONTH : AUGUST - 2018]
_
BCMites believe,
"Our power is in our collaboration,
And with collaboration comes
New knowledge and new truths."
Continuing with the British Council activities and embedding internationalism into curriculum, the middle wing organized the activity 'Water : Soul of the Earth' in collaboration with its partner school Imaad School, Nekki, Nigeria to exchange knowledge and views on the global issues like water pollution, floods and droughts. The activity was commenced with 'An Expert's Lecture'wherein the students were familiarized with the concept of water, its importance & uses,water pollution, water cycle, rain gauge, water treatment ,flood and drought both in India &Nigeria. BCMites were also showcased the PPT shared by our partner school.Thereafter,the students enthusiastically depicted their knowledge through scrapbooks and water cycle diagrams and the same were exchanged with the partner school to put our efforts collaboratively for this global concern.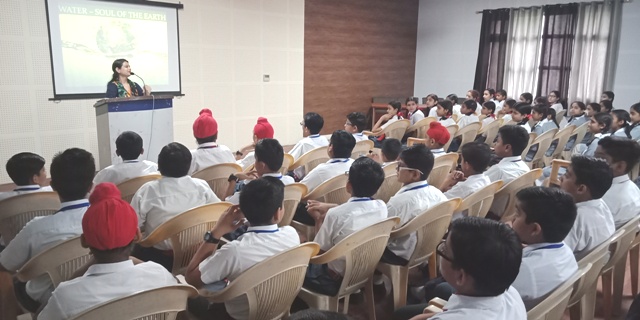 Using PPT as an aid, the experts of Department of Social Science acquainting BCMites about floods and droughts in India and Nigeria.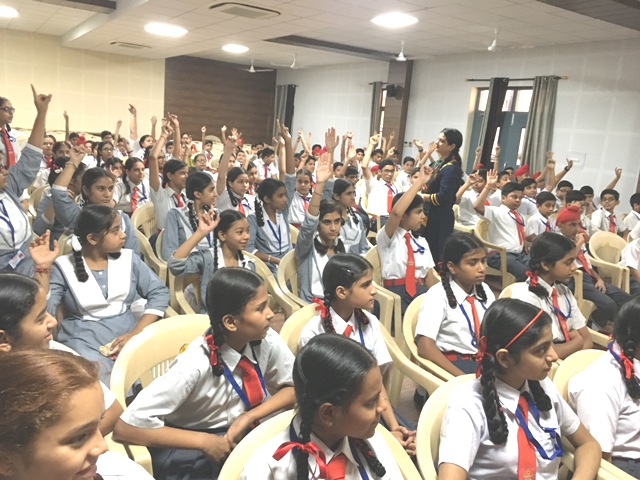 Testing previous knowledge of the students about water pollution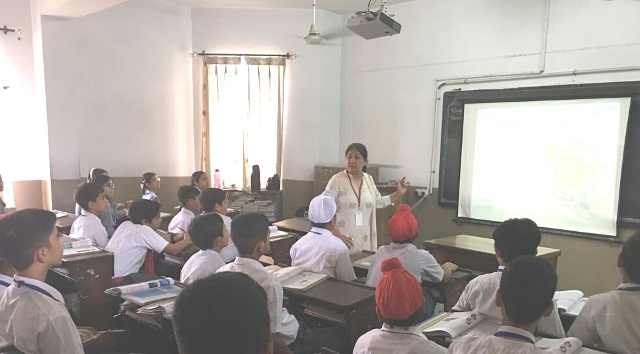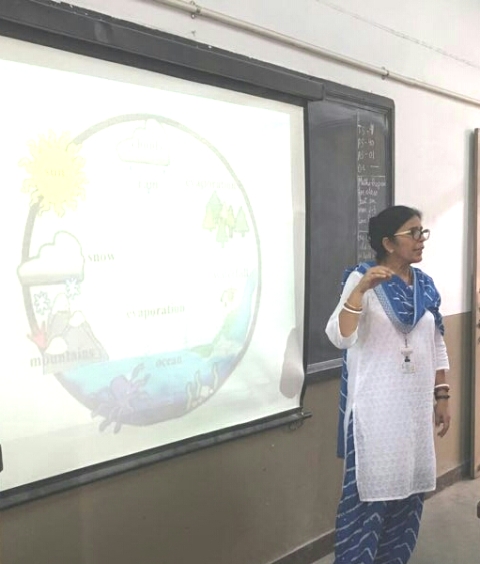 Familiarizing the young minds with importance of water & water cycle to the students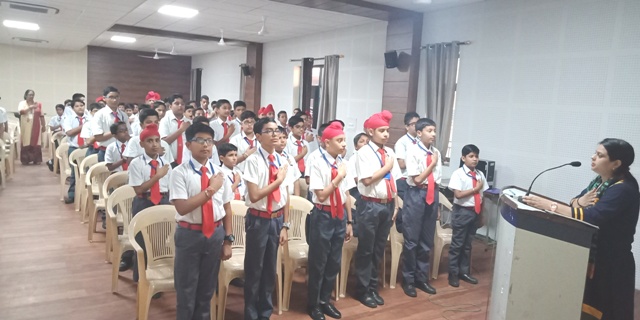 Students as well as teachers taking pledge to save water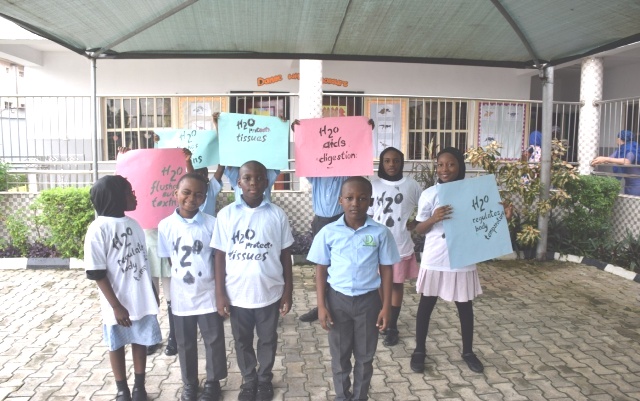 Our peers in Nigeria embarking on awareness campaign on the importance of Water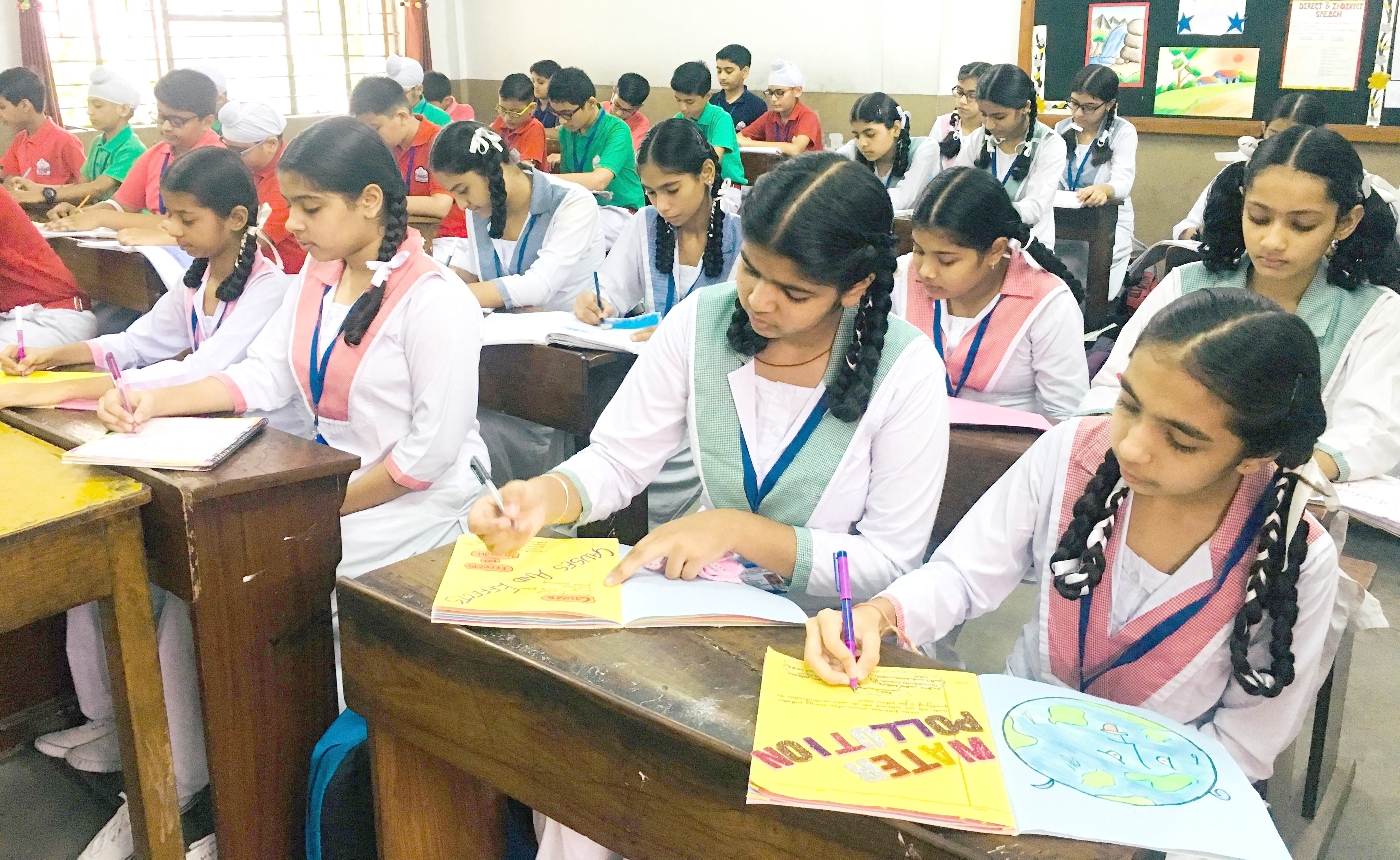 Young minds show cased comparative study of floods and draughts between India& Nigeria through Scrap Books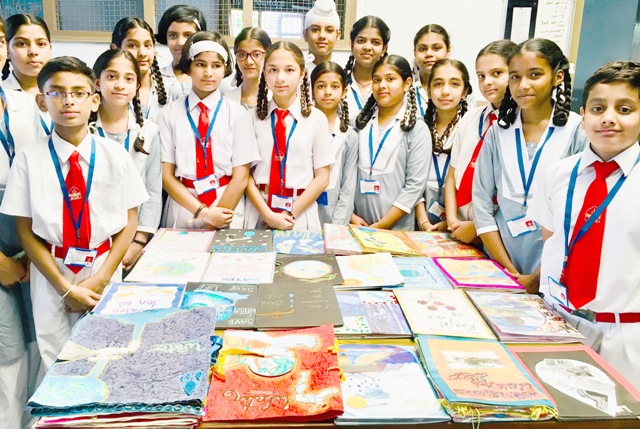 Students exhibited their global knowledge and analytical skill through well designed Scrap Books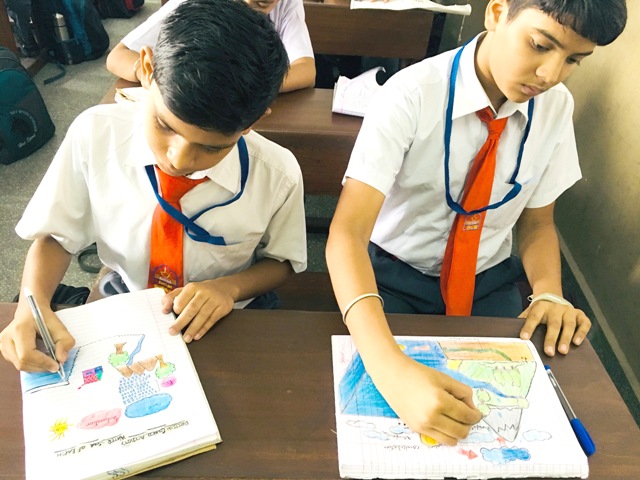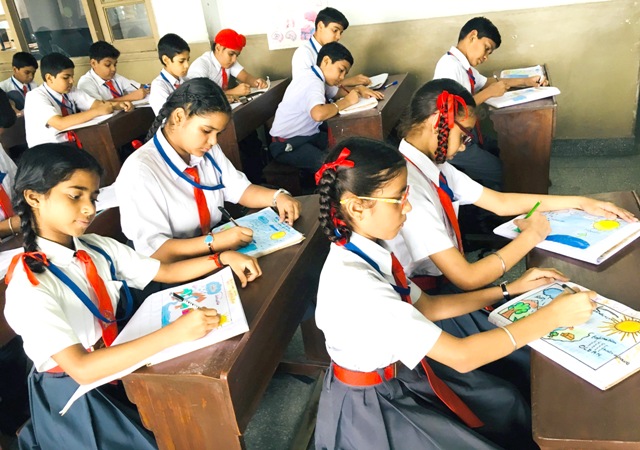 BCMites giving a visual shape to their global knowledge of water cycle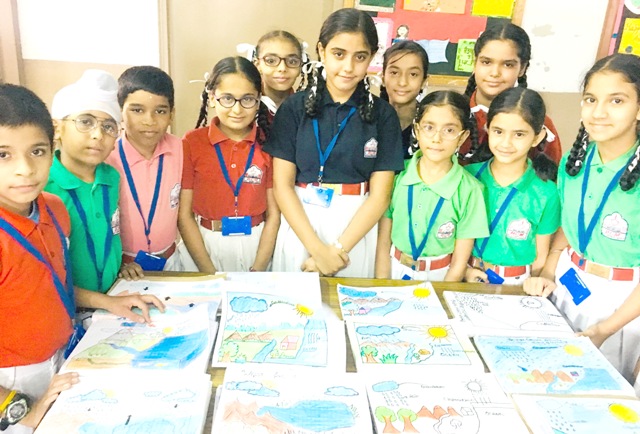 Students depicted their knowledge of water cycle through diagram
Students of our partner school in Nigeria modelling different stages of water cycle.
MEDIA COVERAGE OF THE ACTIVITY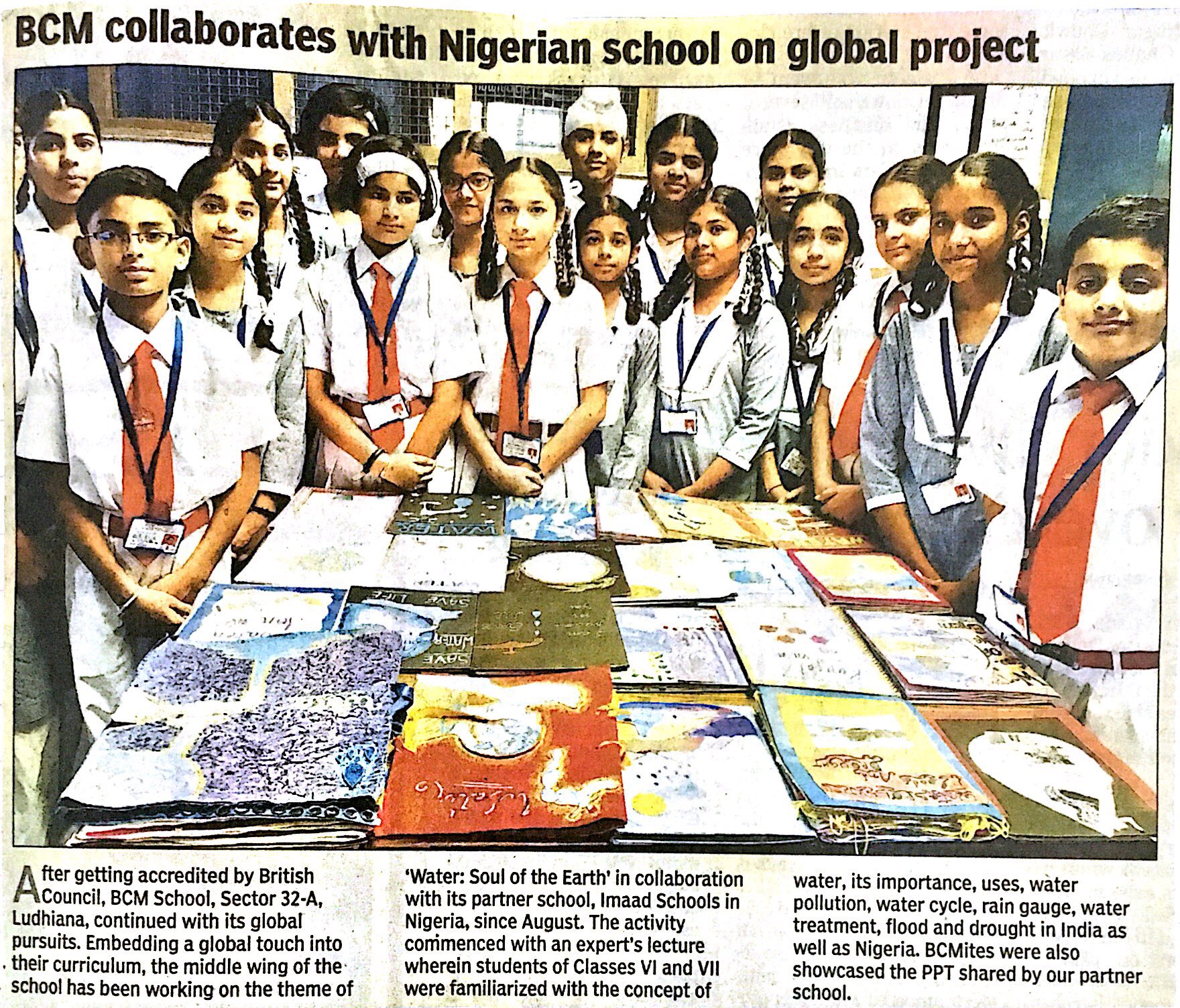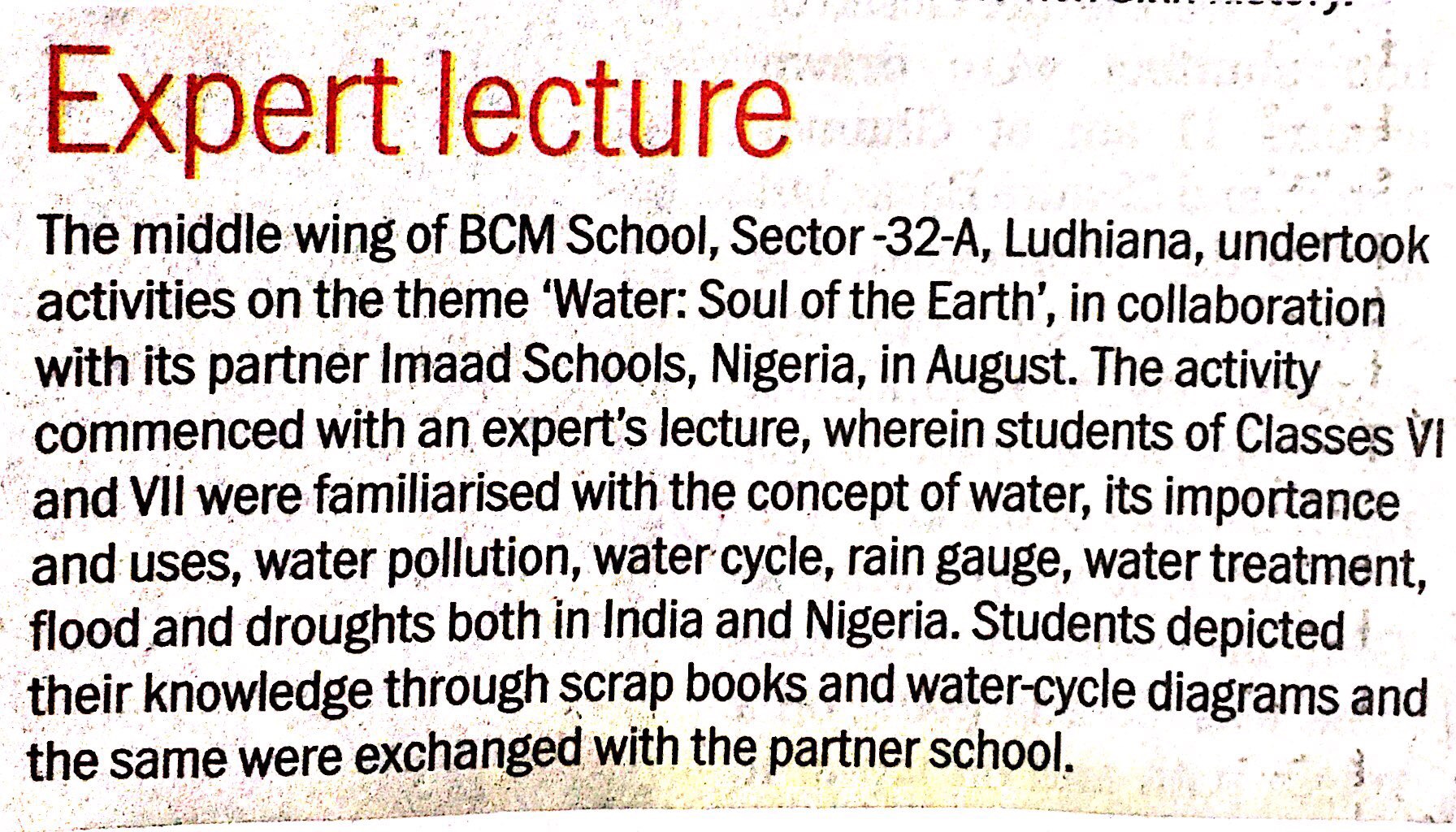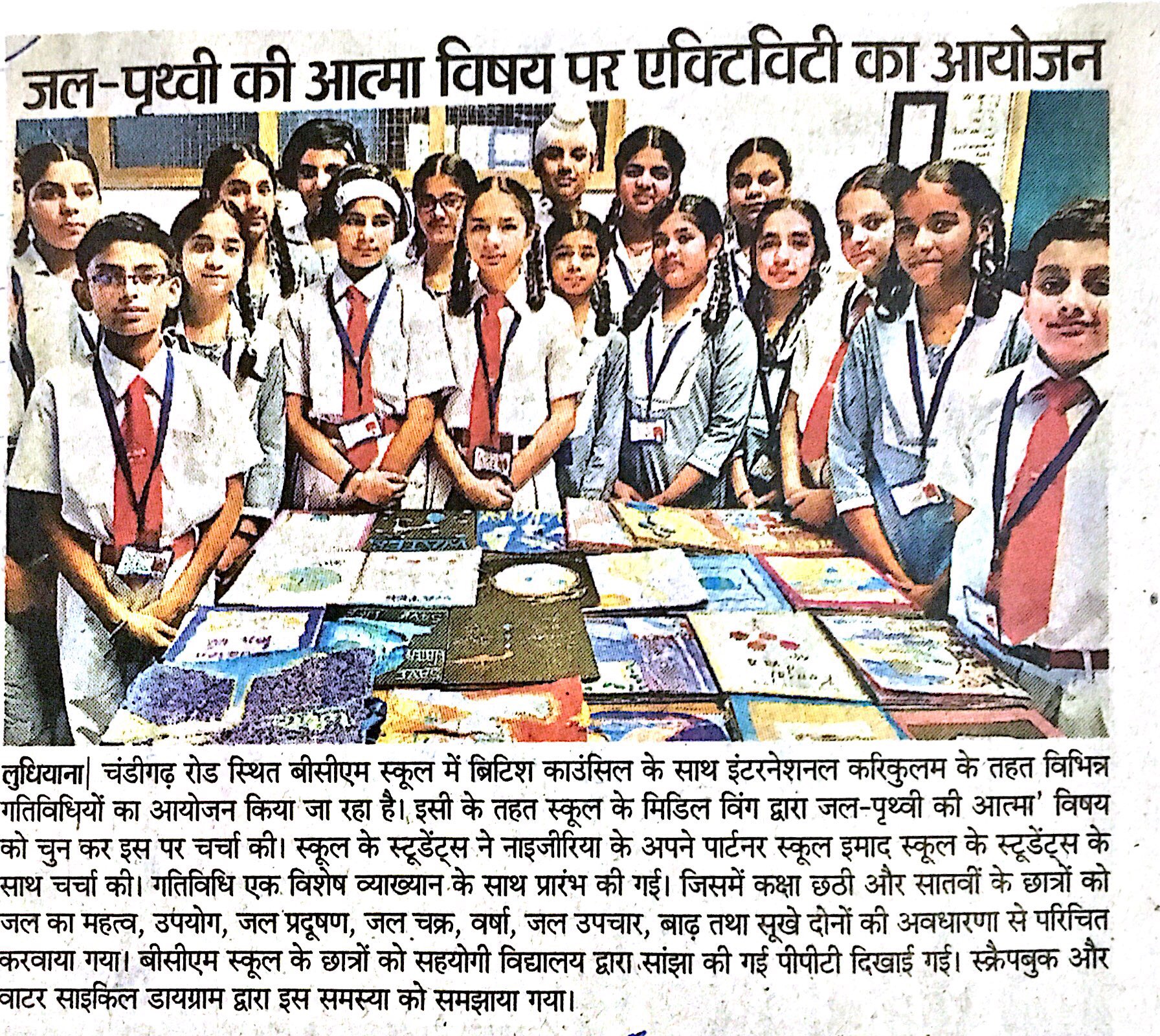 BRITISH COUNCIL INTERNATIONAL ACTIVITY - III
WASTE MANAGEMENT - CLASSES : IV - V [MONTH : SEPTEMBER 2018]
Taking another leap towards global education, young BCMites of primary wing participated in another international activity, collaborating with our partner school (Imaad Schools, Lagos, Lekki) in Nigeria. Through PPT and Display Boards students learnt about five 'R's of Waste Management, and their implication in India and other countries. Students of Eco Club gathered Pictures and information on the topic and prepared beautiful scrap books depicting the gained knowledge. Both the schools exchanged the gathered information, thus mutually benefiting each other and expanding the horizon of learning.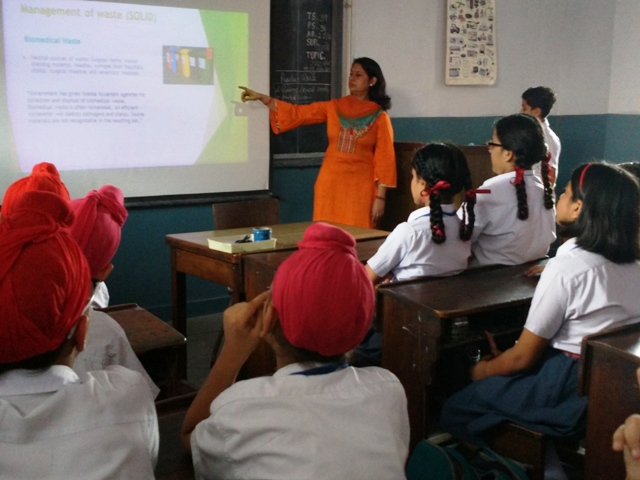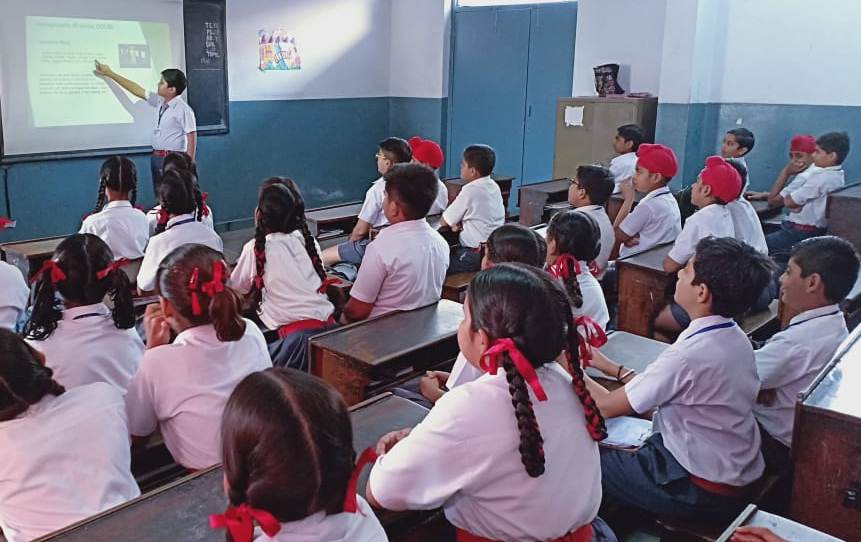 Learning about Waste management techniques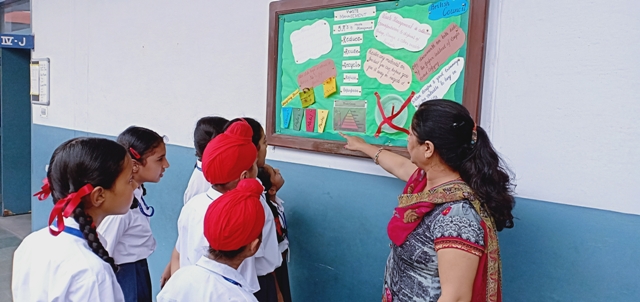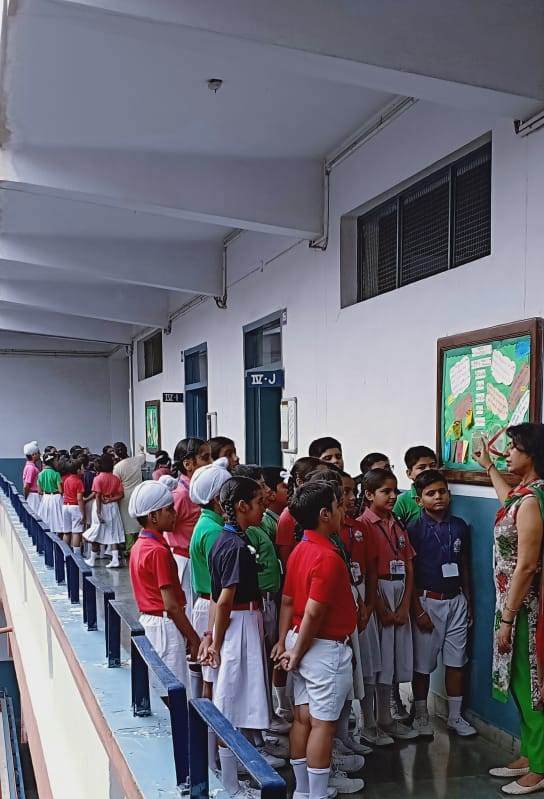 Learning through display boards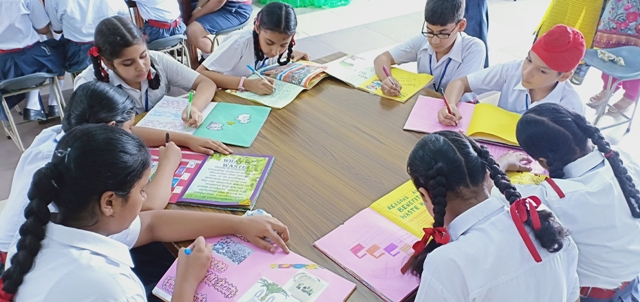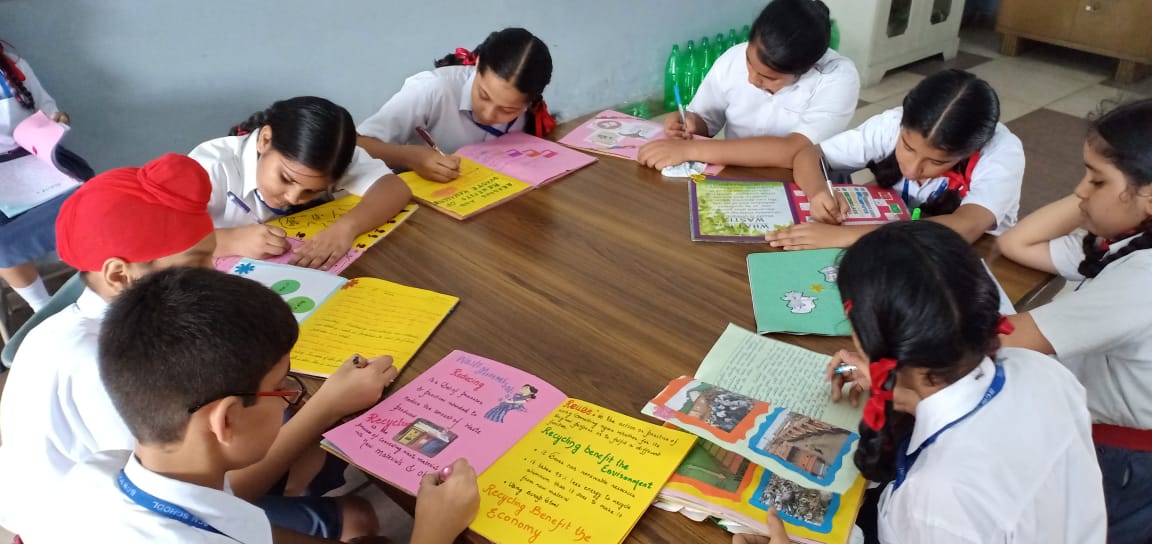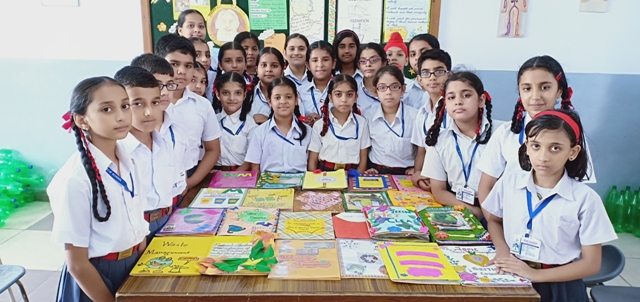 Learning by doing
Display of Scrap Books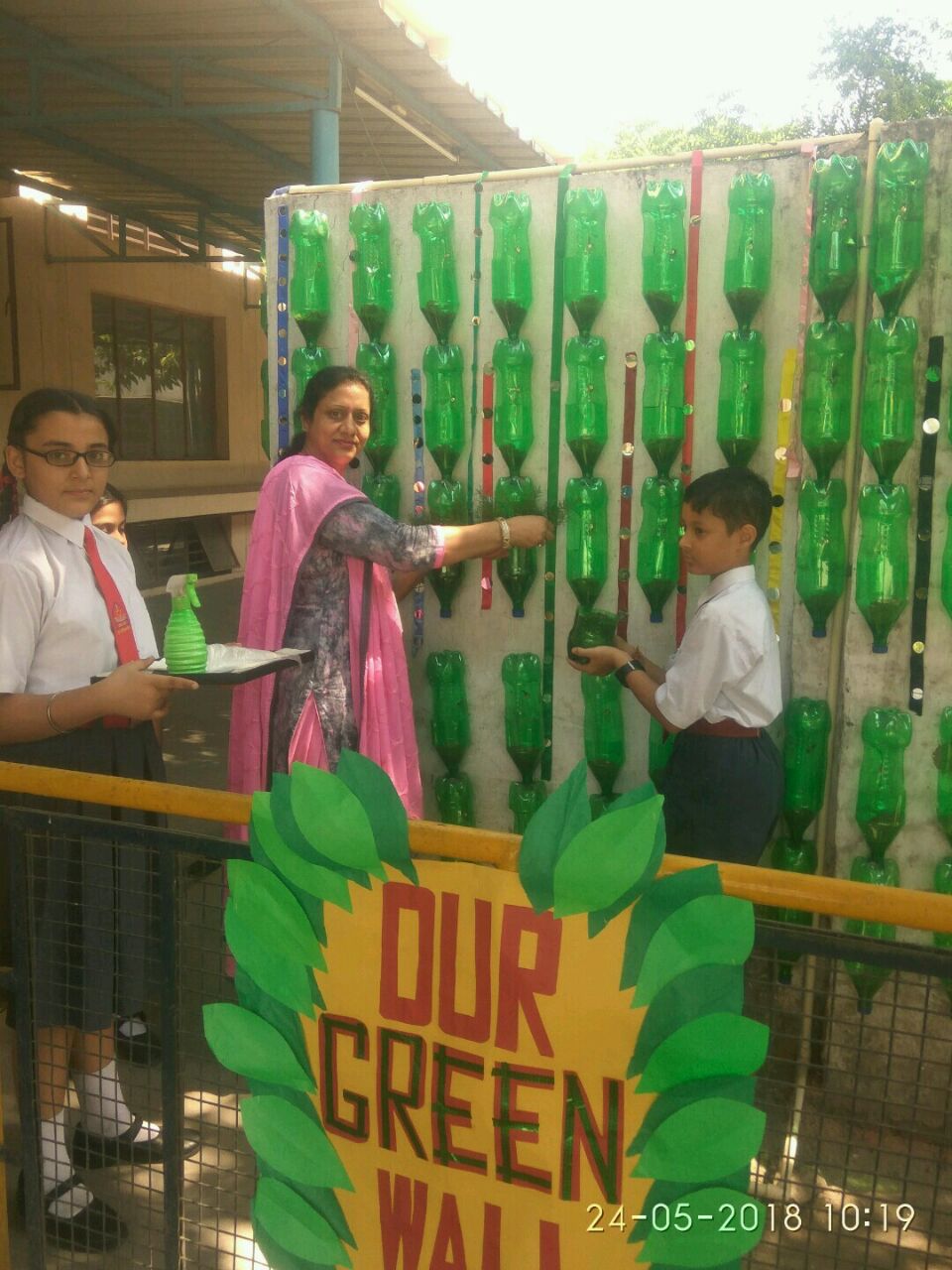 Vertical Garden created by reusing plastic bottles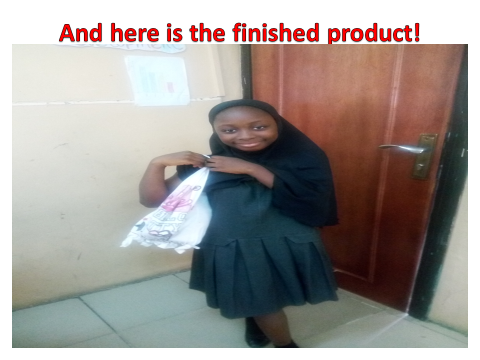 Reducing an old T-Shirt to a portable shopping bag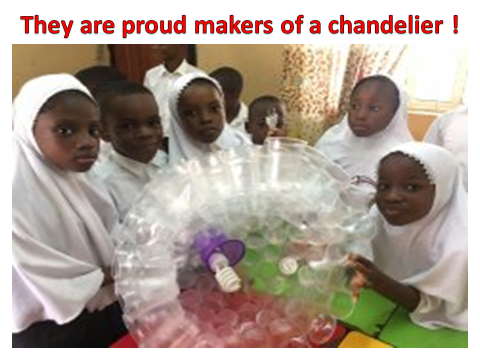 Reusing disposable cups to make a Chandelier
MEDIA COVERAGE OF THE ACTIVITY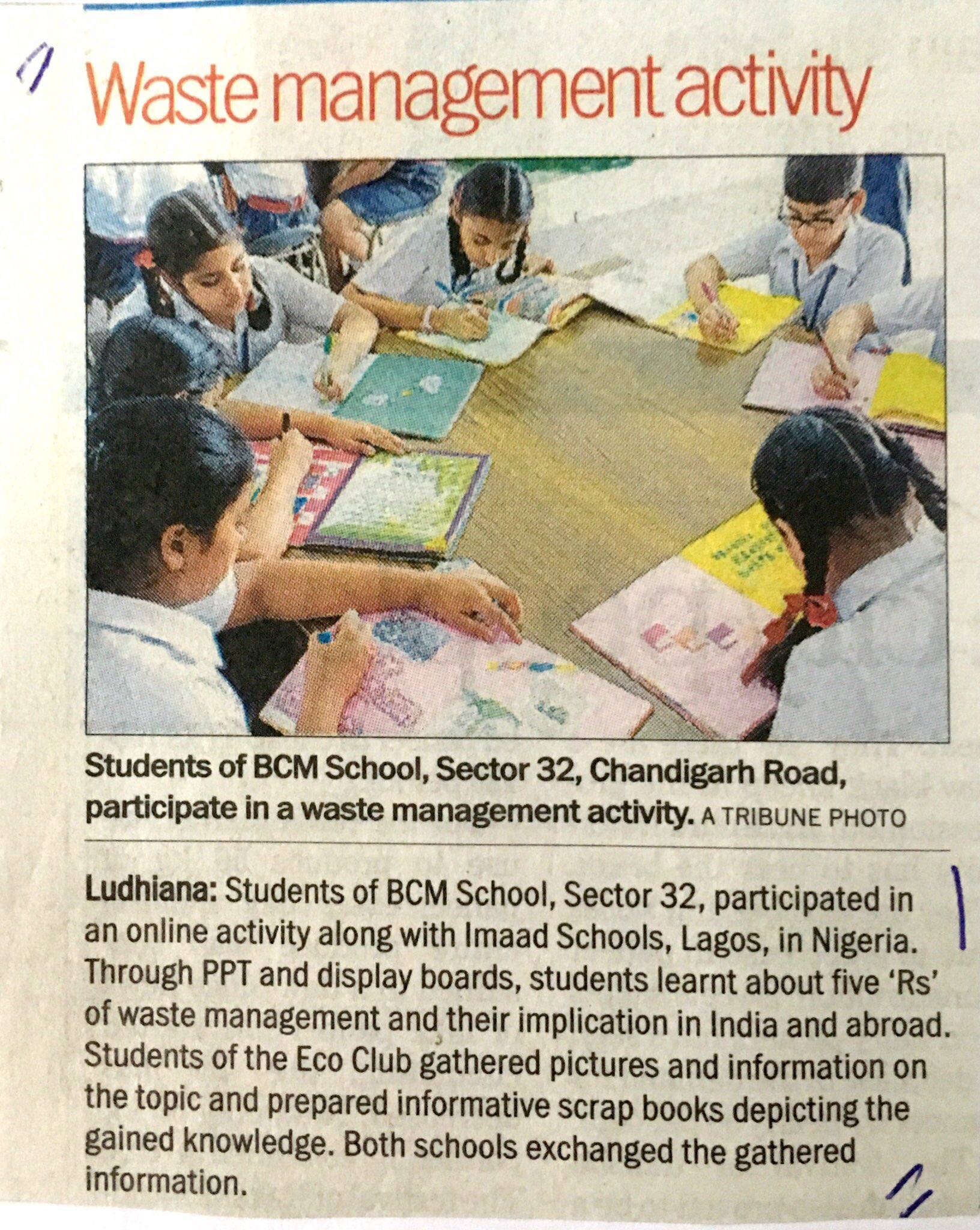 BRITISH COUNCIL INTERNATIONAL ACTIVITY - IV
National Symbols of India & Canada [MONTH : SEPTEMBER & OCTOBER 2018]
Continuing with the British Council International activities, the kindergarten wing of the school organized varied activities to incorporate the multicultural aspect in the school curriculum.The tiny tots of LKG and UKG were acquainted with the 'National Symbols of India & Canada' through power point presentation & display boards. The kids depicted their learning through fun filled worksheets.Oozing with confidence and joy , the kids of UKG also participated in the activity 'Let's Tweet' wherein the students not only displayed their knowledgeof the national symbols of the countries under study but also left the audience spell bound with their oratory skills.The tiny tots were really enthusiastic to exchange the activity with their peers in Canada.The activity was a grand success as it widened the global horizons of the tiny tots.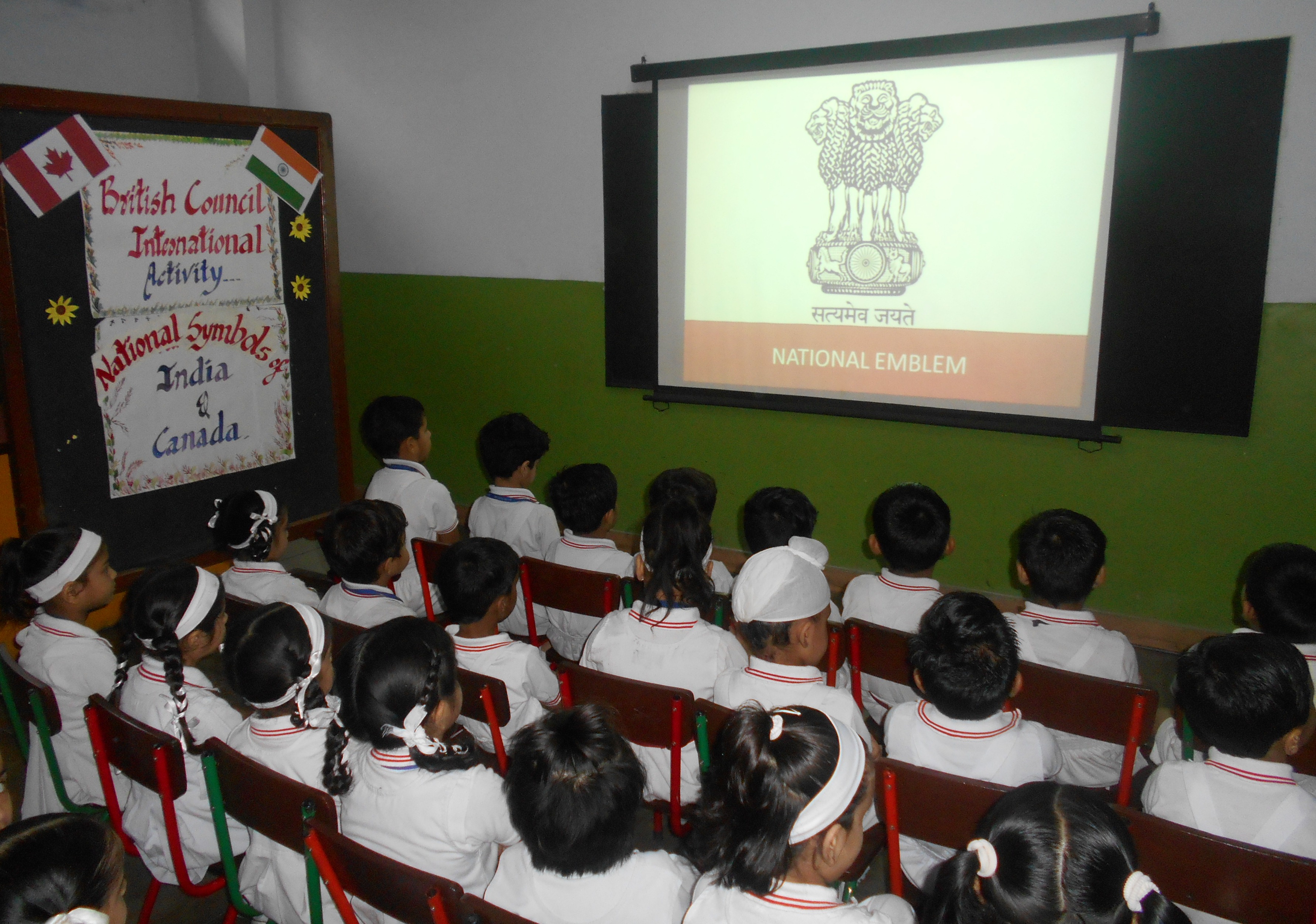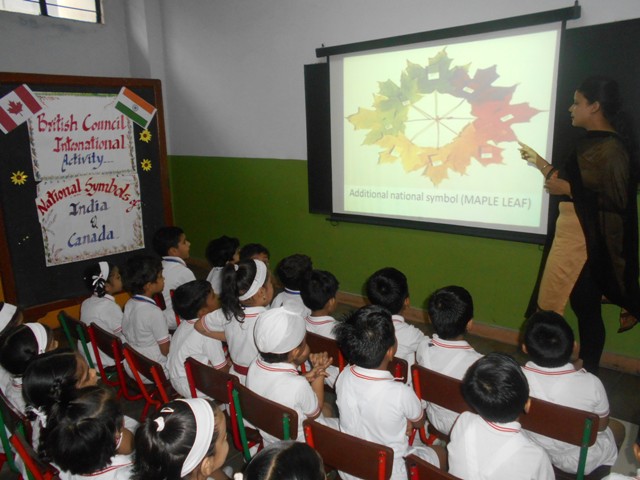 Tiny tots being acquainted with the'National Symbols of India & Canada' through Power Point Presentation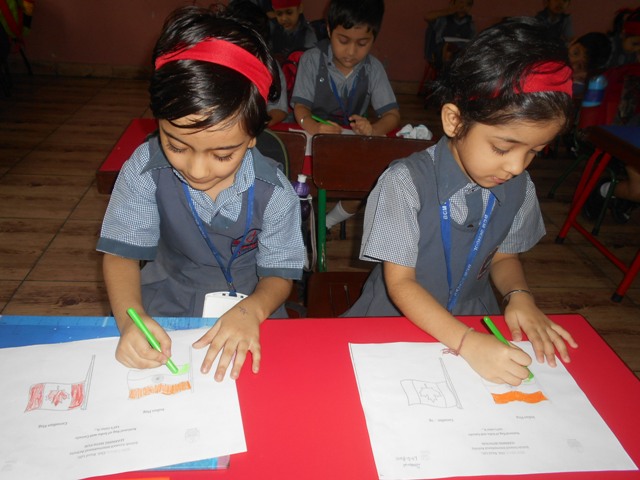 Learning with Fun: Kids coloring the National Flag of India & Canada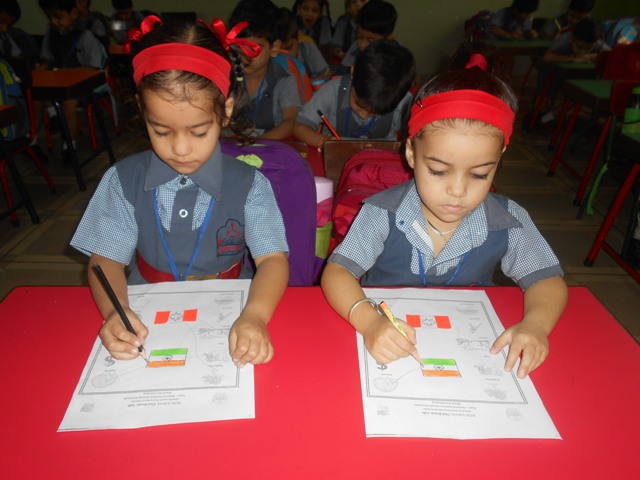 Kids widening their global horizons through fun filled worksheets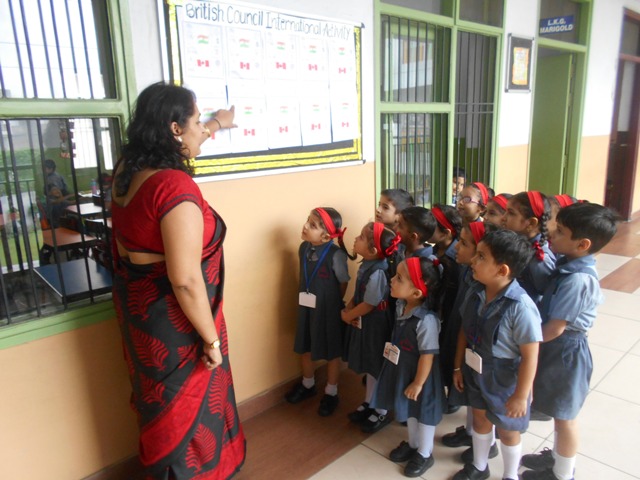 Tiny tots recapitulating the expanded knowledge through display boards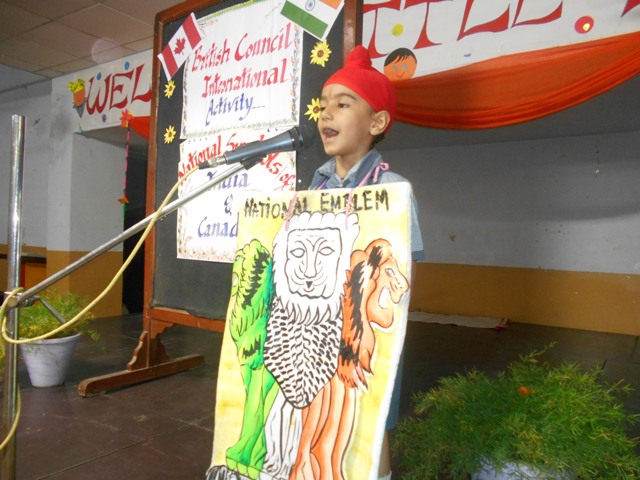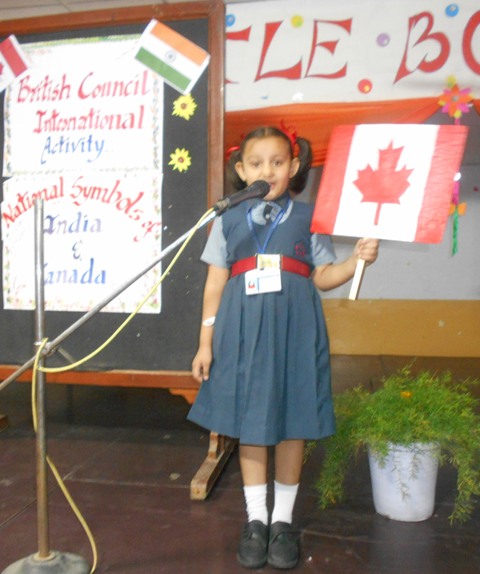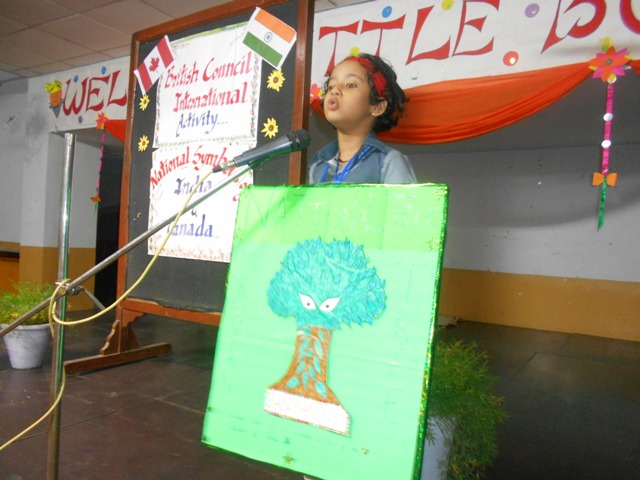 Kids exhibiting their gained knowledge, confidence & oratory skills through the activity- Lets Tweet About It.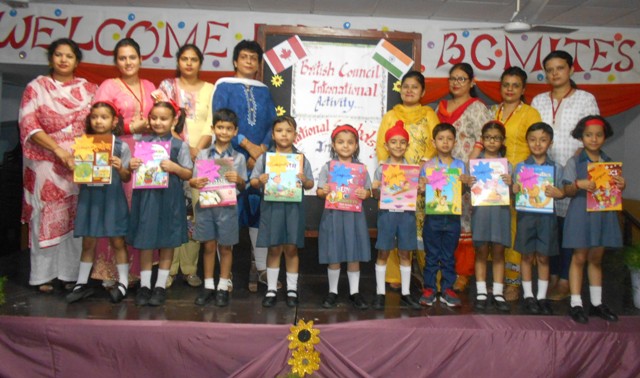 Tiny tots appreciated for their hard work & sincere efforts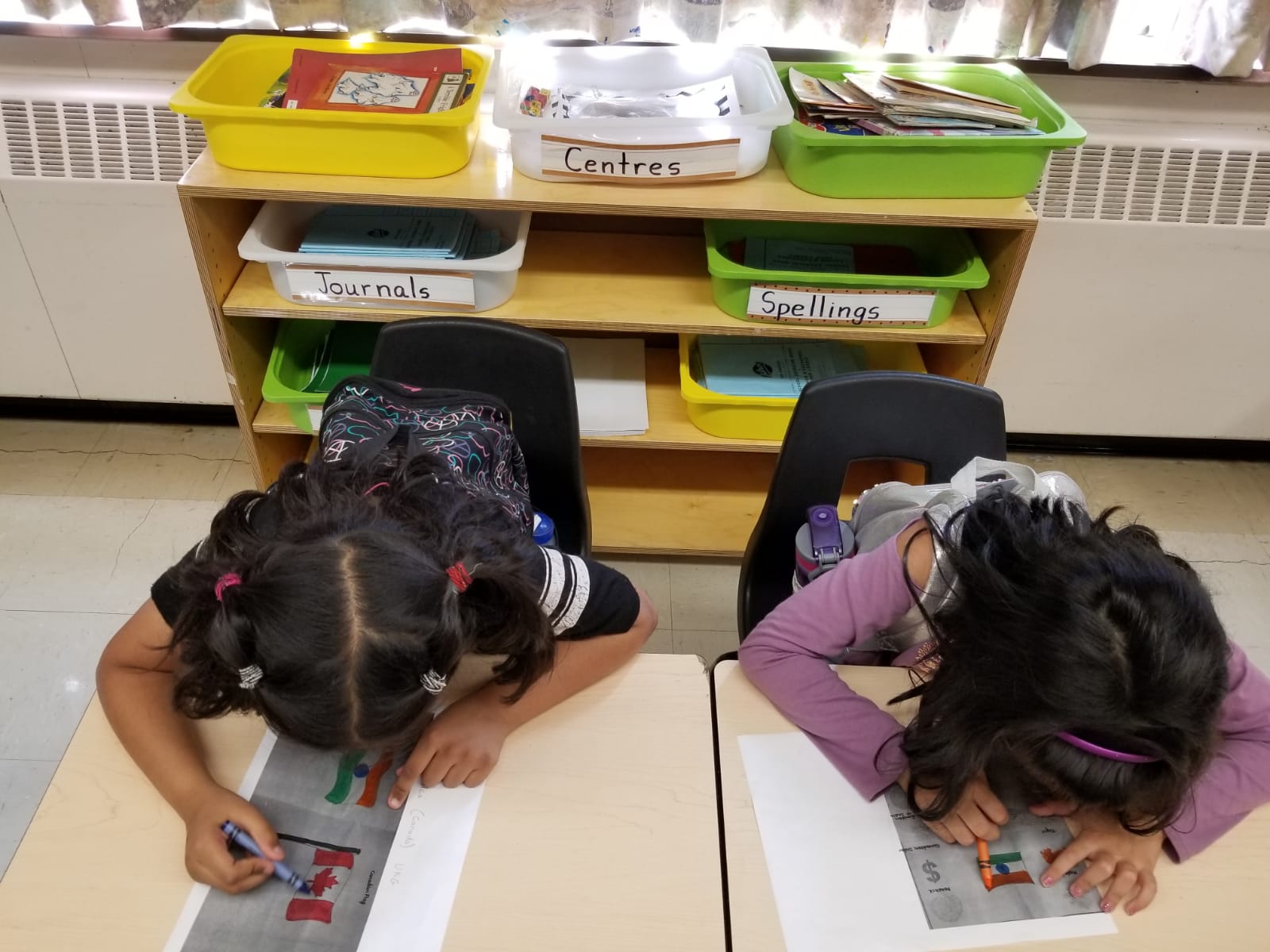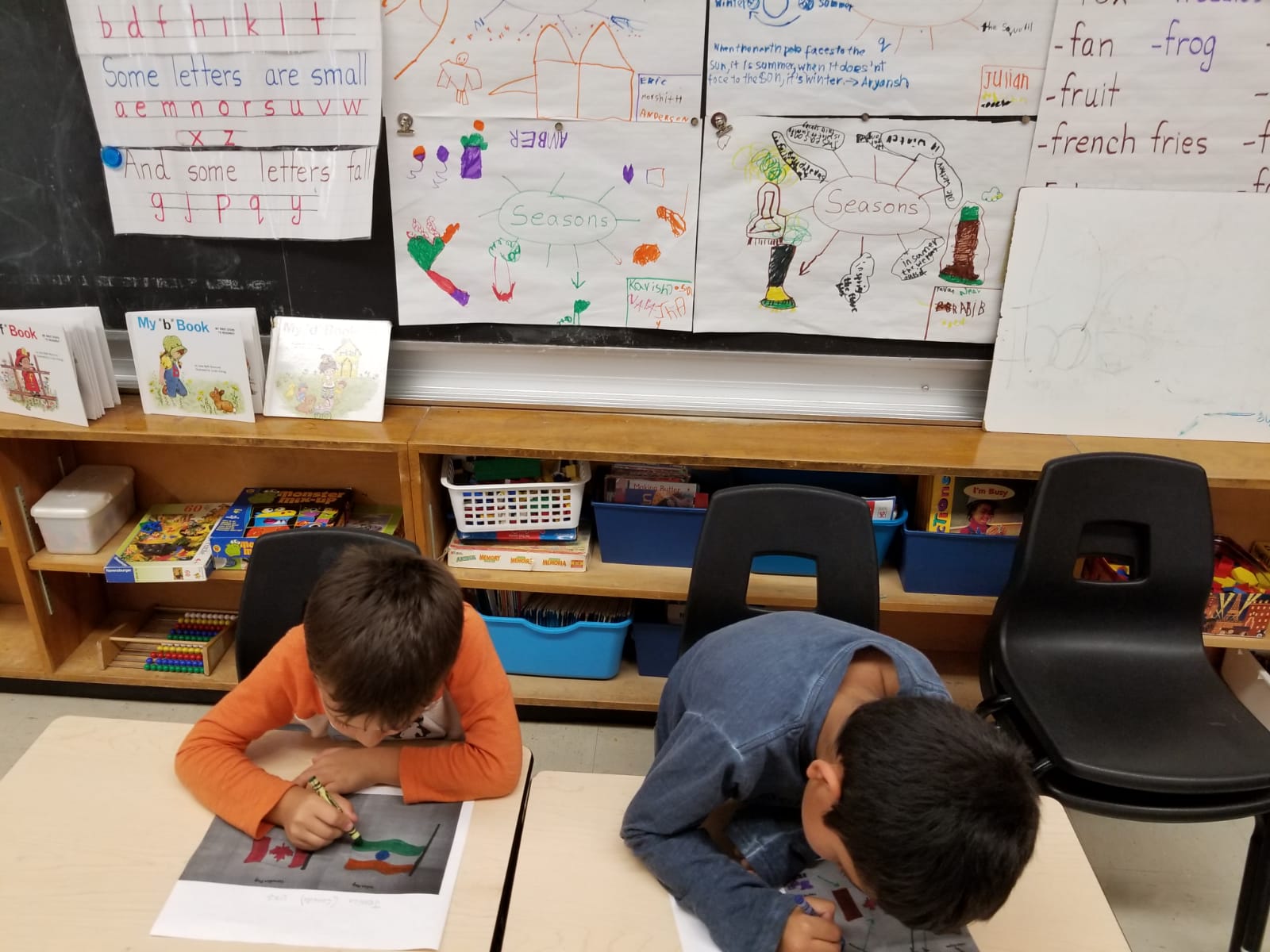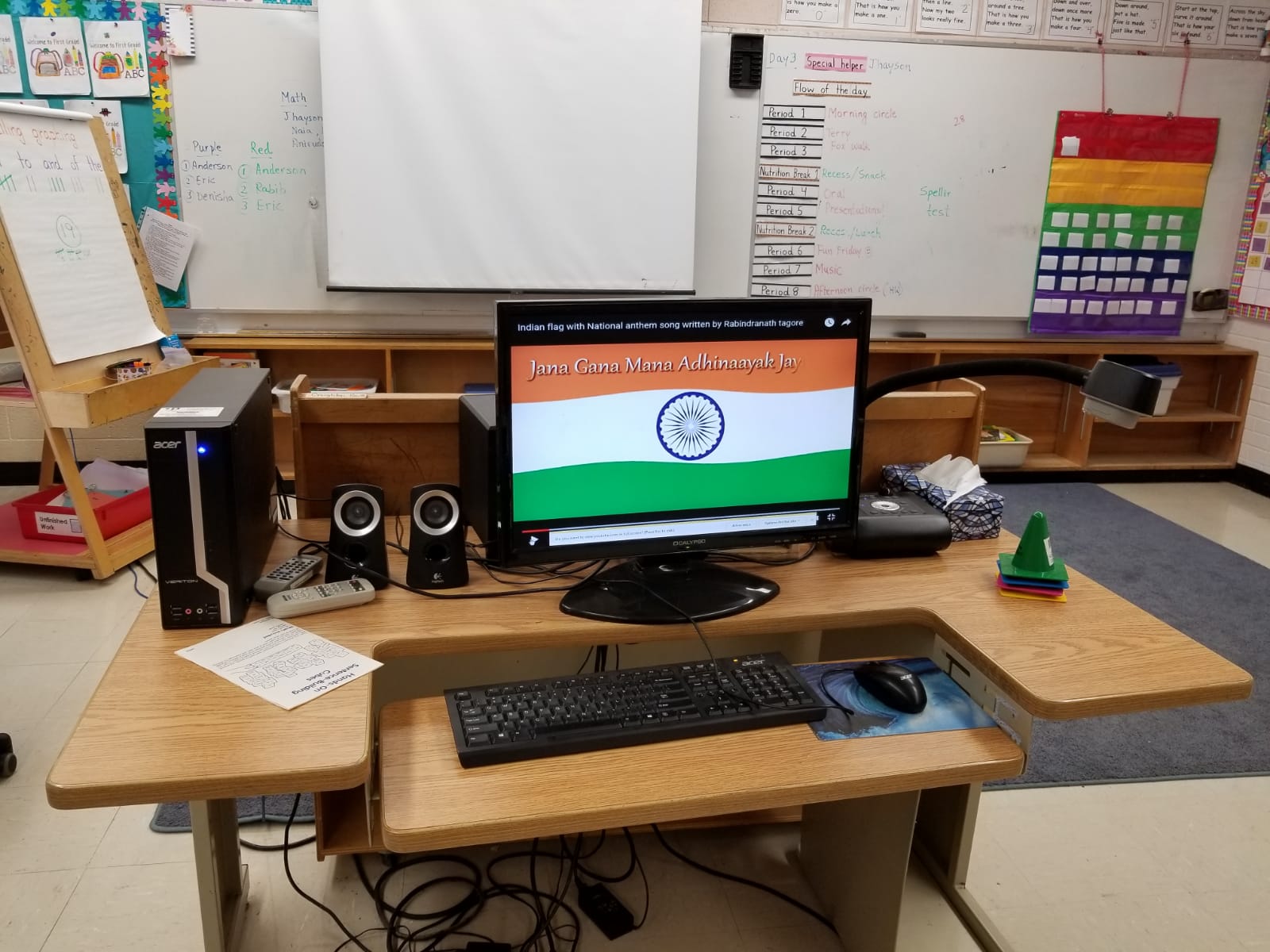 Exchange of Knowledge with our peers in Canada
MEDIA COVERAGE OF THE ACTIVITY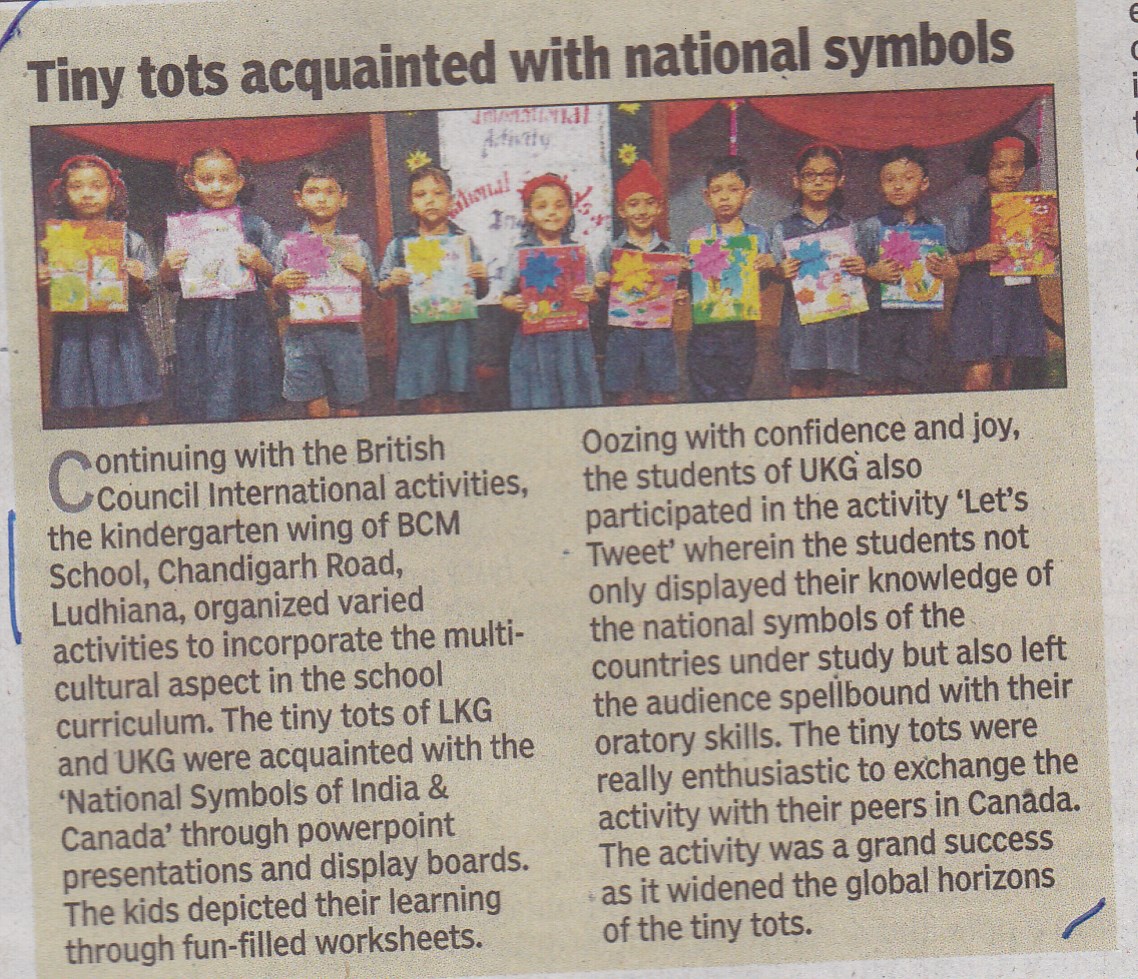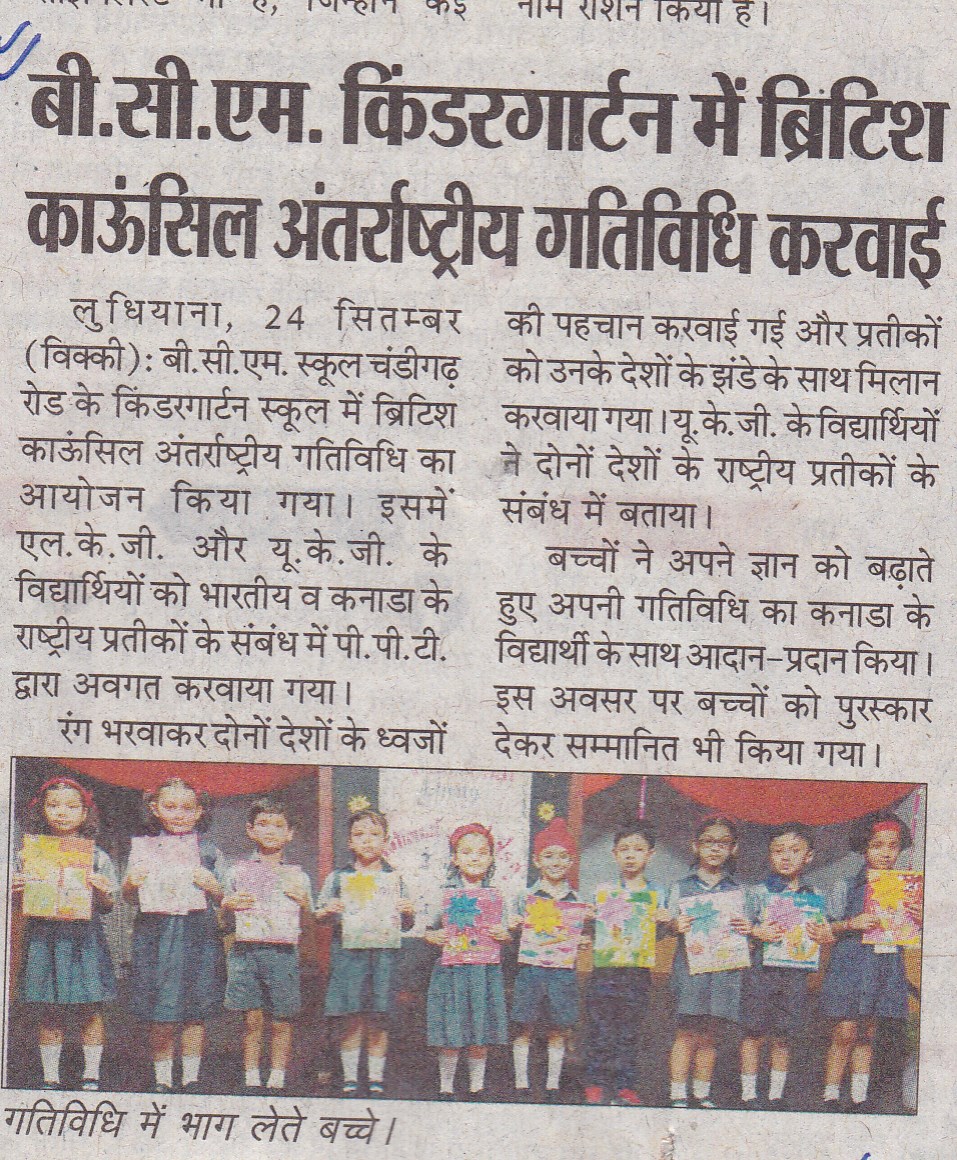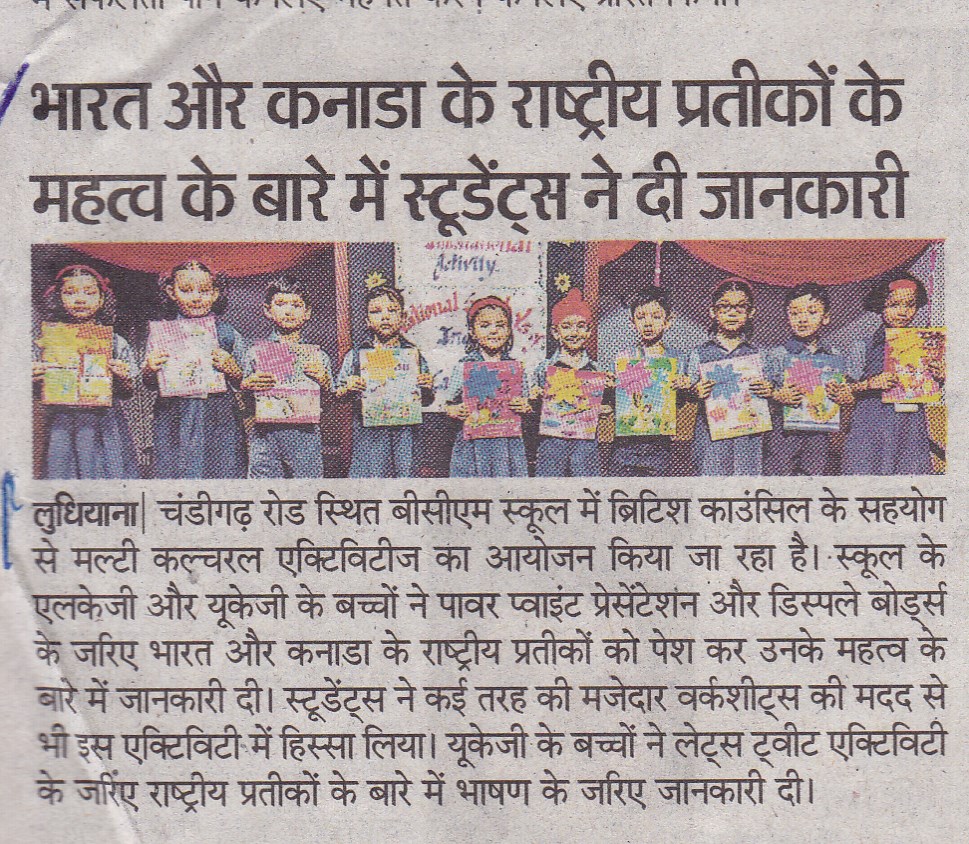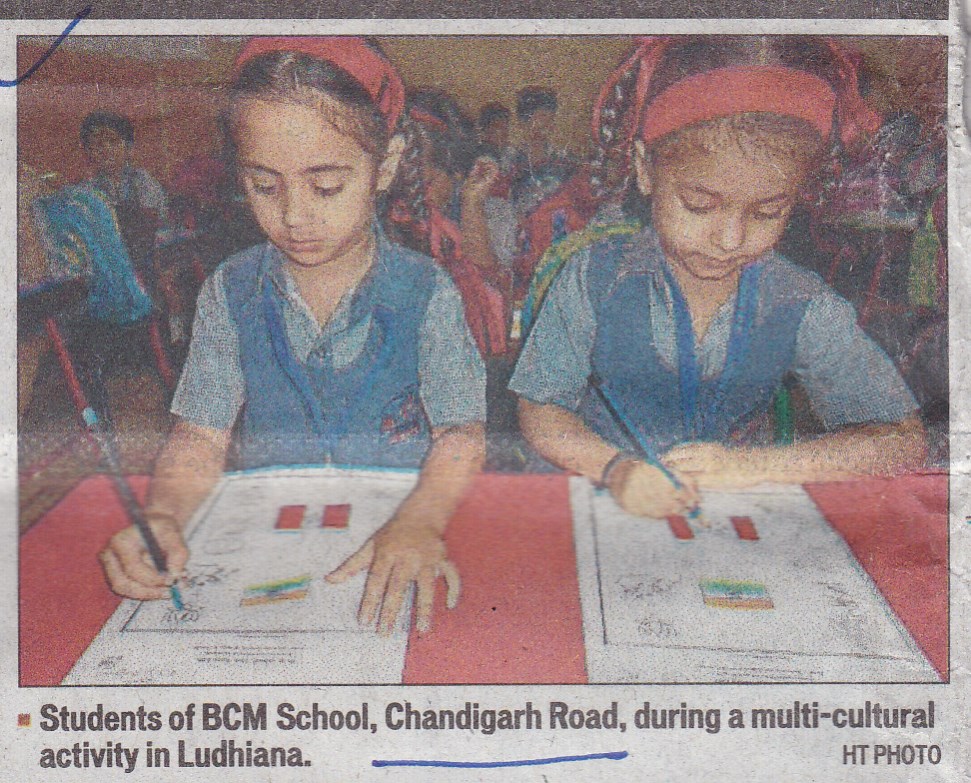 BRITISH COUNCIL INTERNATIONAL ACTIVITY - V
Sustainable Energy Sources Classes : VII, VIII [MONTH : OCTOBER & NOVEMBER 2018]
BCM School believes that the future is green energy, sustainability and renewable energy that includes environmental quality, public health improvement, and inexhaustible energy. It is a universal responsibility to pass a healthy earth on to future generations. Leading the young learners to the path of encouraging sustainable energy, British Council International activity 'Sustainable Energy Sources ' was conducted for the students of classes VII and VIII during the month of October. The students got the inclusive knowledge about different energy sources and ways of generating power in the countries like India, America and Nigeria through 'PPT Show' by the Expert. After getting equipped with the knowledge of the topic understudy the students prepared models of solar cookers, windmills and solar panels exhibiting their creativity and global concern. All the efficient efforts of the young BCMites put forth under this activity were exhibited in the middle block which were highly appreciated by the Principal, teachers, parents and their peers.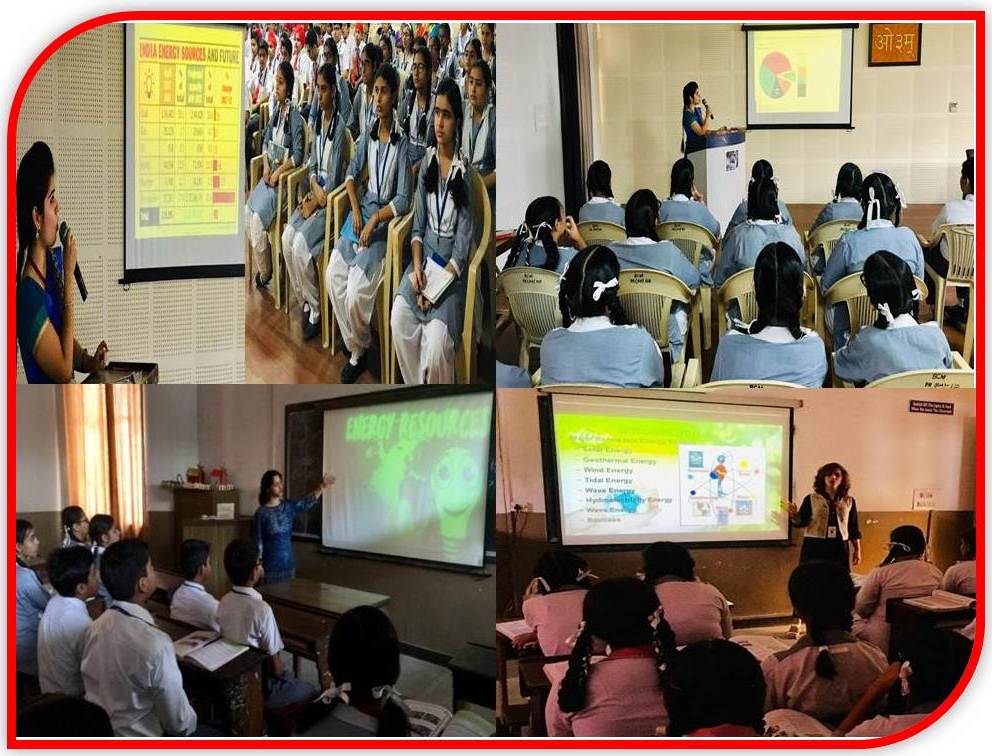 The experts acquainting the students with different energy sources and ways of generating power in India, America and Nigeria through PPT SHOW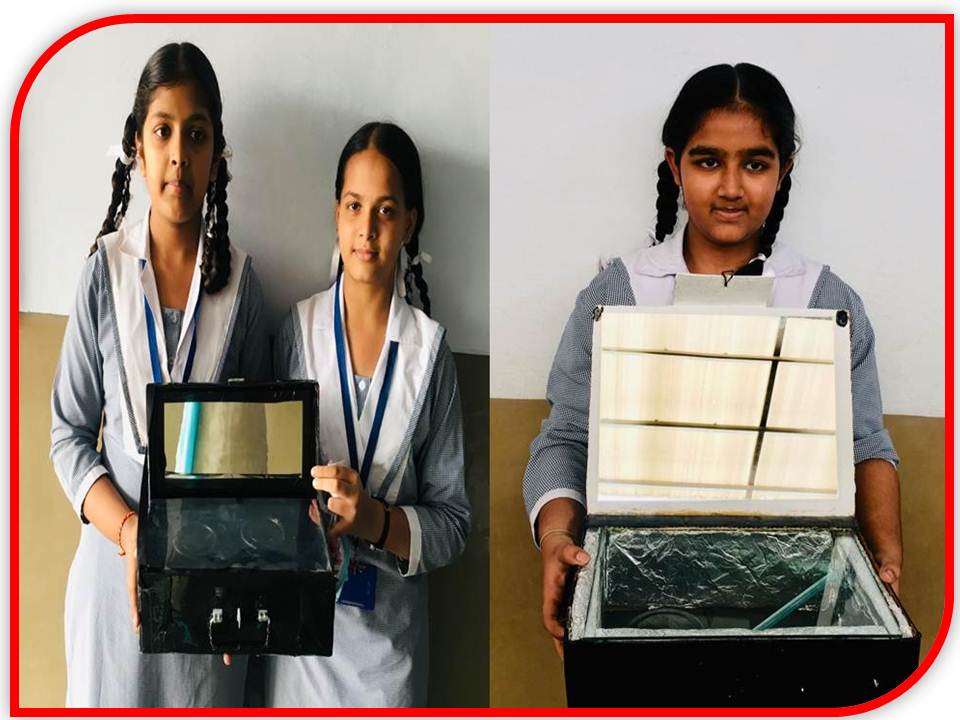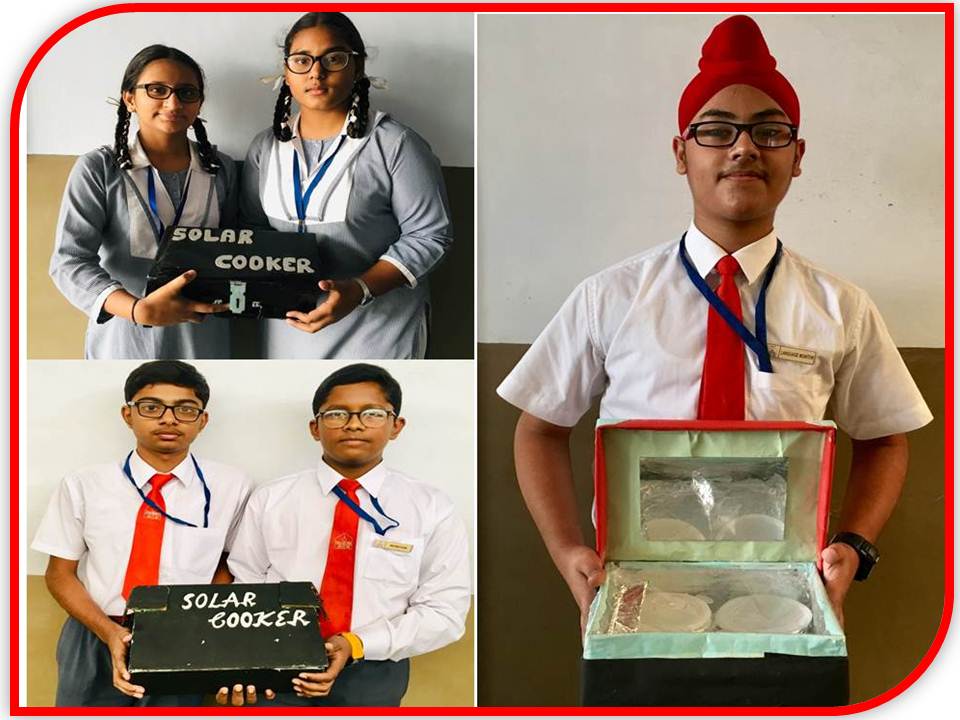 Budding scientists with their models of solar cooker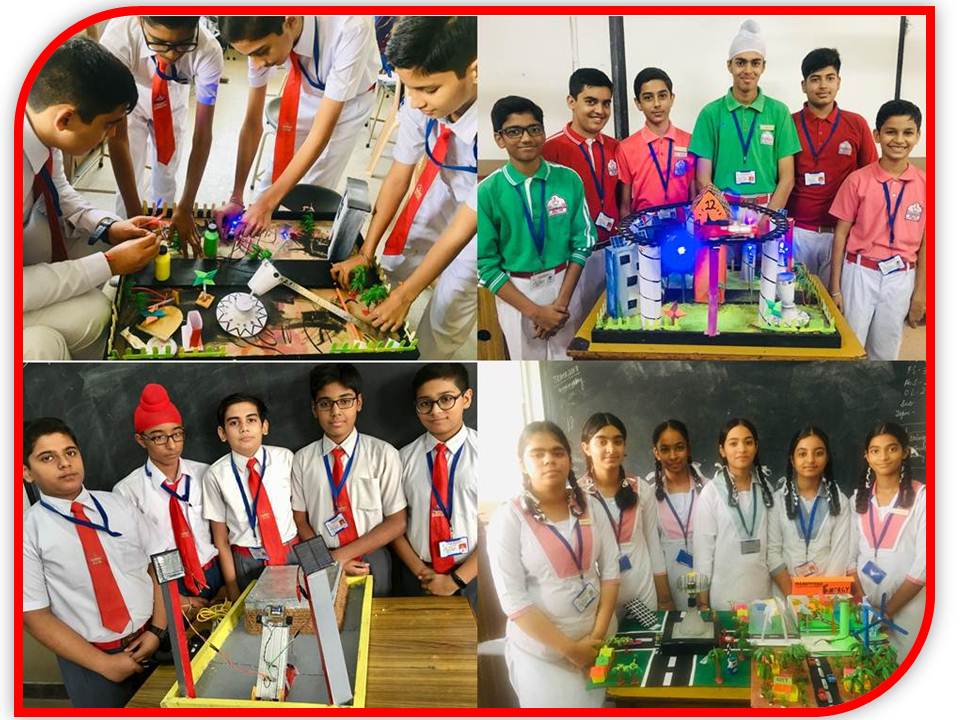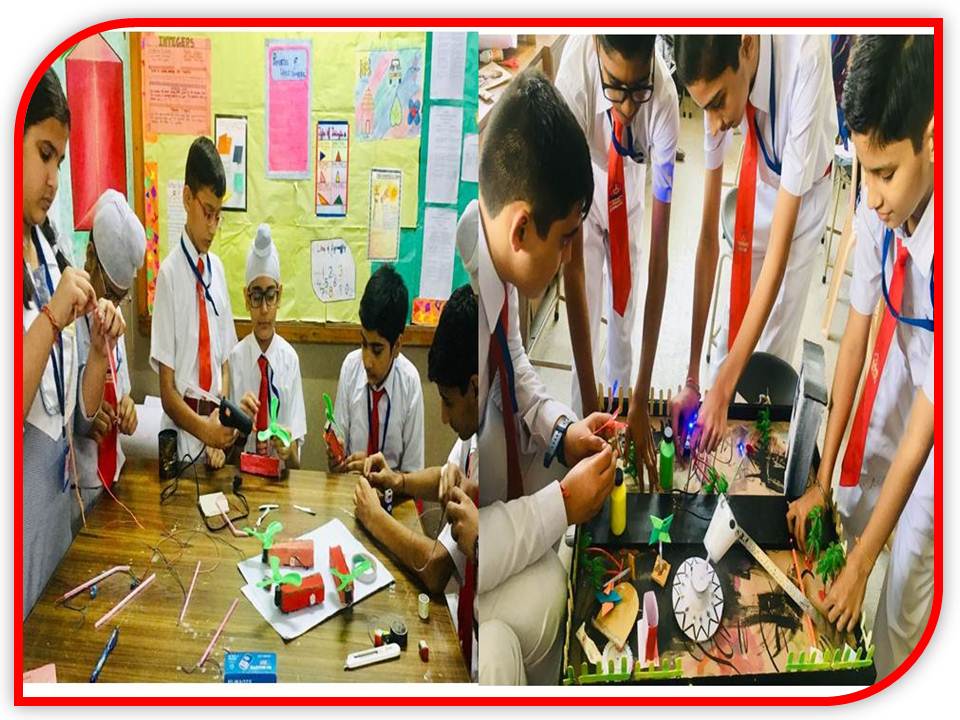 Young learners depicting their knowledge of generating power by making models of solar panels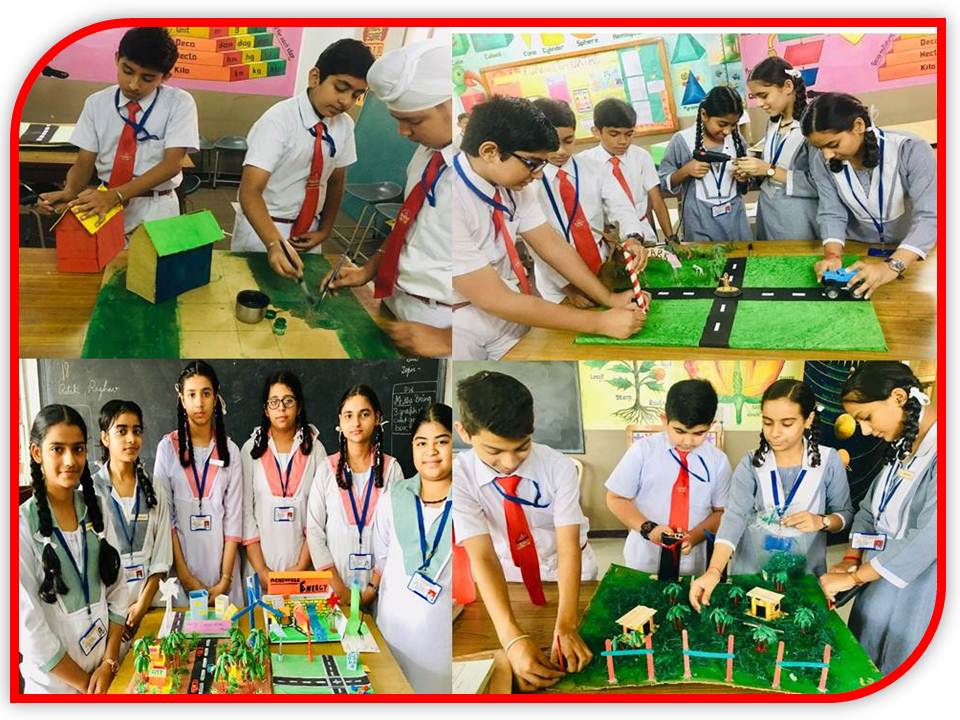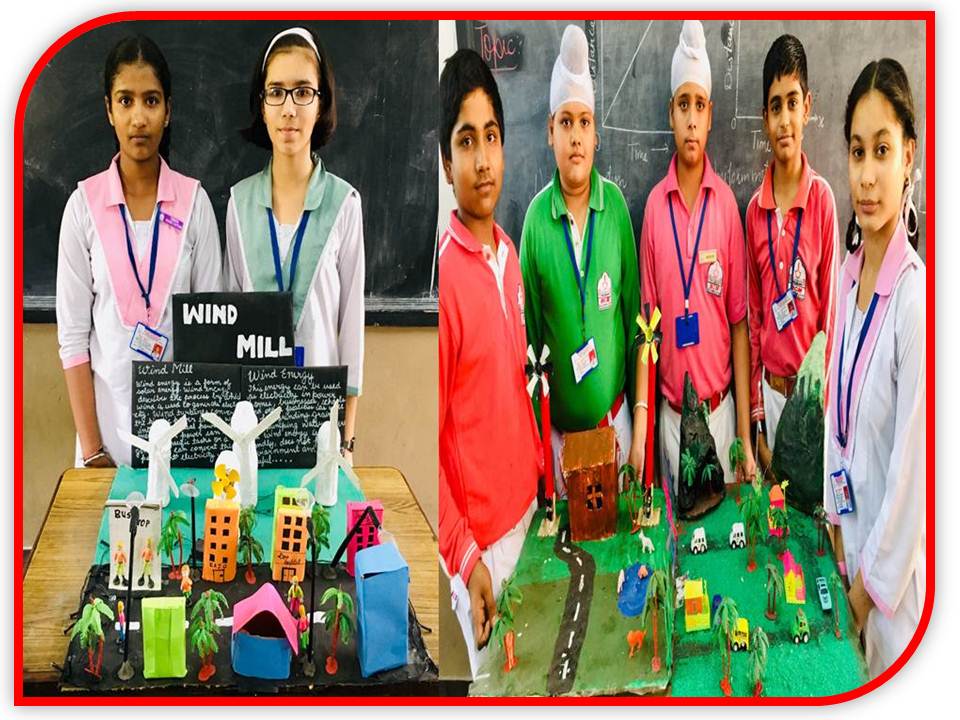 Children trying their hands at models of windmills highlighting their role in generating power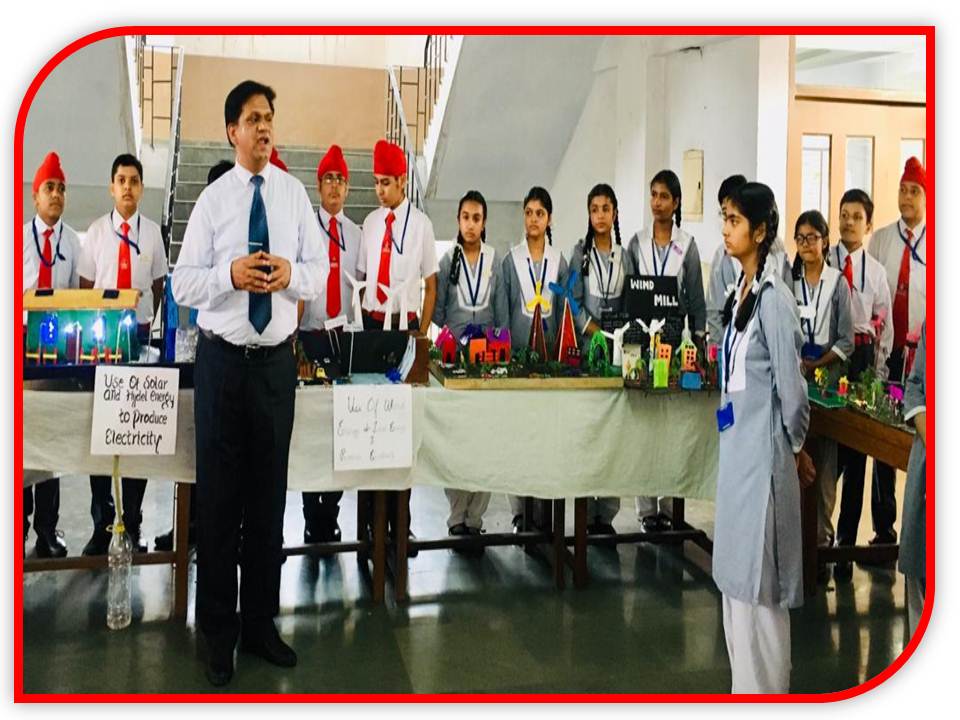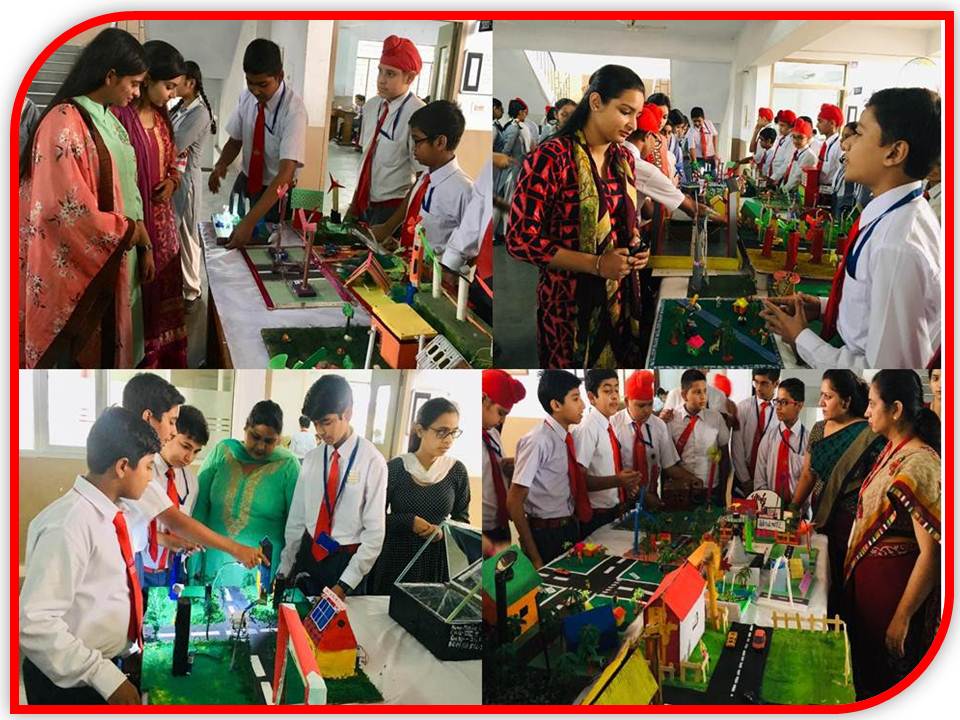 Students exhibiting their models at the Science exhibition
MEDIA COVERAGE OF THE ACTIVITY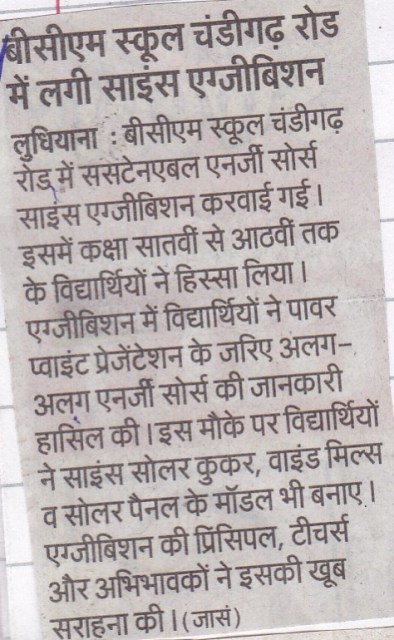 BRITISH COUNCIL INTERNATIONAL ACTIVITY - VI
Skype Meeting with Nigeria on 'Culture & Festivals' [MONTH : NOVEMBER 2018]
Crossing the International boundaries, BCM School, Chandigarh road, Ludhiana had a Skype meeting with its partner school Start Right Schools, Nigeria on 16 November 2018. The students of grade 7 & 8 interacted with their peers in Nigeria about 'Culture & Festivals' of India as well as Nigeria. They came to know about different languages, food, dance, music and life style of each other's countries . They also exchanged facts related to the main festivals celebrated with great fervour. BCMites felt enthralled after this meeting as they have made new friends and enriched their global knowledge.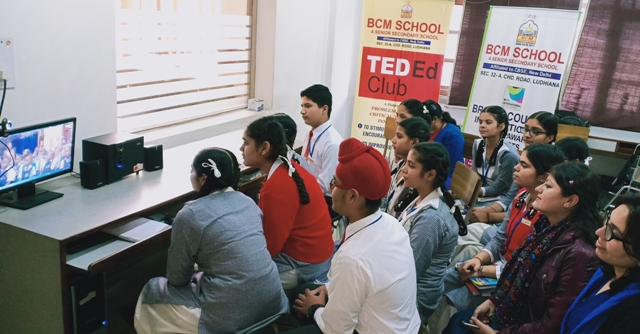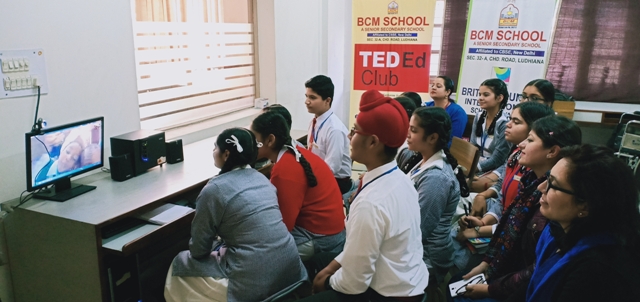 SKYPE MEETING WITH PARTNER SCHOOL AT NIGERIA
MEDIA COVERAGE OF THE ACTIVITY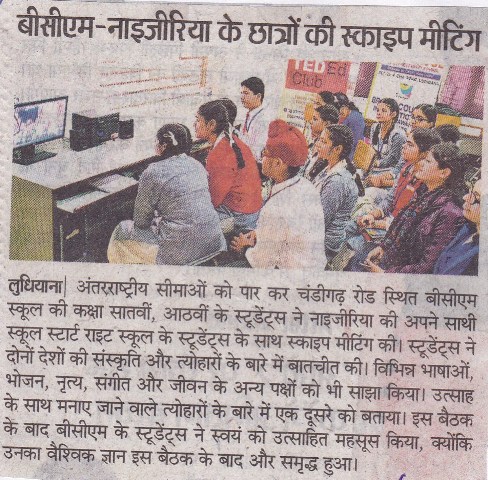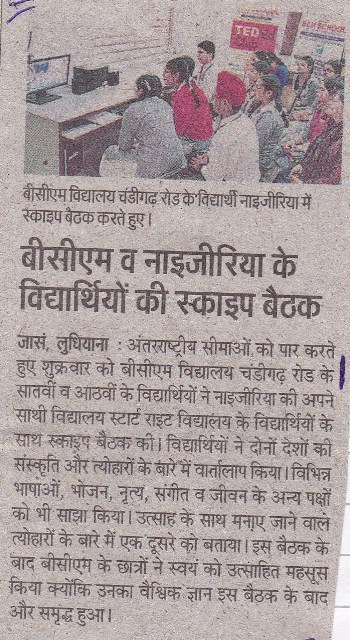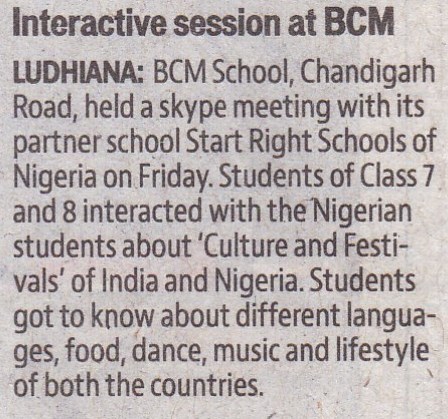 BRITISH COUNCIL INTERNATIONAL ACTIVITY - VII
VISIT TO ENERGY CELL
To enrich the students with first-hand information about sustainable energy sources and ways of generating power, the school organized a 'Visit to Energy Cell' for the students of Grade 7 & 8 on 21 November 2018. A team of 20 students accompanied by Ms. Sunita Arora (TGT, Science) visited an energy cell and got an opportunity to witness solar products and equipment like Solar Panels, Solar Inverters, Solar Water Heaters, Solar Cookers, Solar Dishes and Solar Dryers. The resource persons, Mr. Gaurav Baluja and Mr. Jitesh, informed the students about the function and usage of solar equipment. This visit equipped the young learners with practical knowledge of green and renewable energy.
STUDENTS GETTING INFORMATION ABOUT SOLAR PANEL
MEDIA COVERAGE OF THE ACTIVITY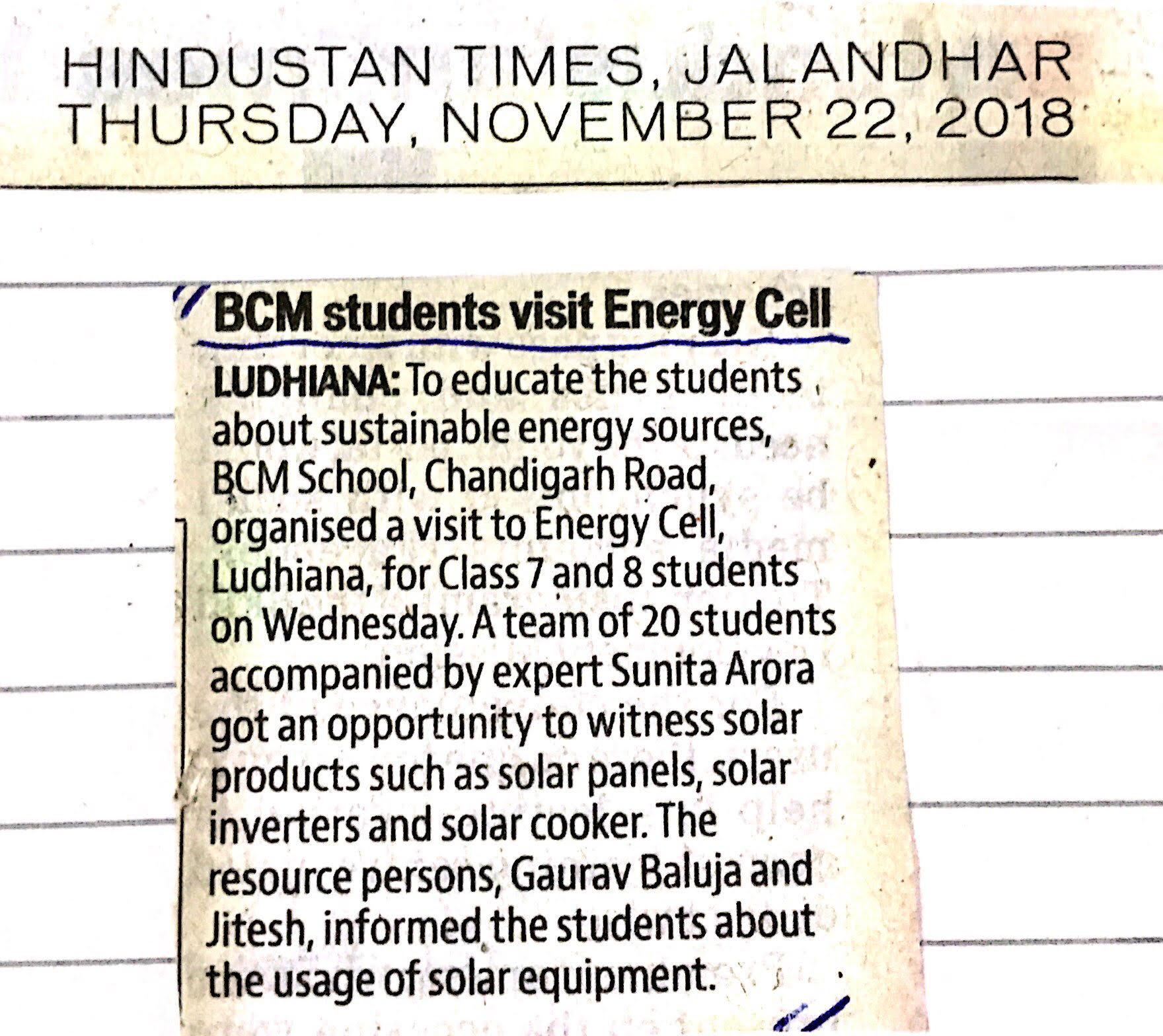 BRITISH COUNCIL INTERNATIONAL ACTIVITY - VIII
NATIONAL & INTERNATIONAL HEROES Classes: IV, V [Month: Nov. & Dec.]
Once again, breaking the barriers of national boundaries, students of classes IV and V in BCM School, Chandigarh road, Ludhiana were acquainted with inspiring stories of some international heroes like Martin Luther King, Abraham Lincoln, Nelson Mandela along with national heroes like Mahatma Gandhi, Sardar Patel, Subhash Chander Bose, Sardar Bhagat Singh and others through Power Point Presentation. To foster internalization of positive traits of these great personalitiesin growing children, a role-play activity was organized and students displayed wonderful performances trying to emulate their favourite hero in every respect. Further, to assess the gained knowledge , a quiz-bee 'Know Our Heroes' was also organized, in which all the students participated very enthusiastically. This British Council International activity was a milestone in the character development of students.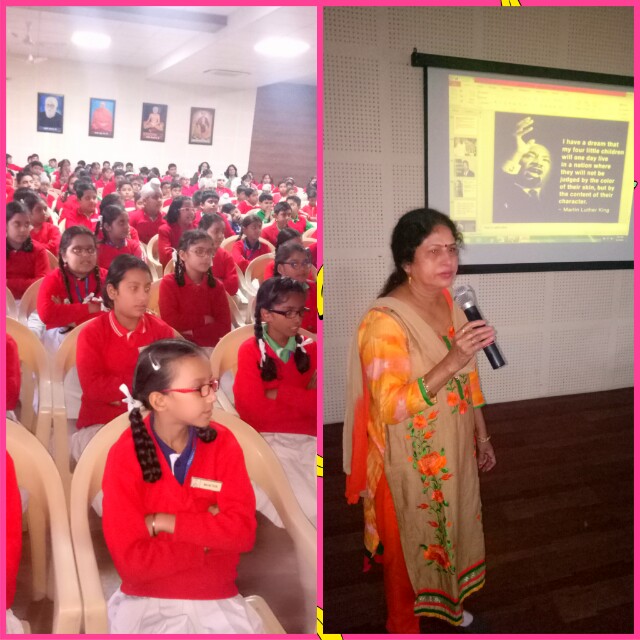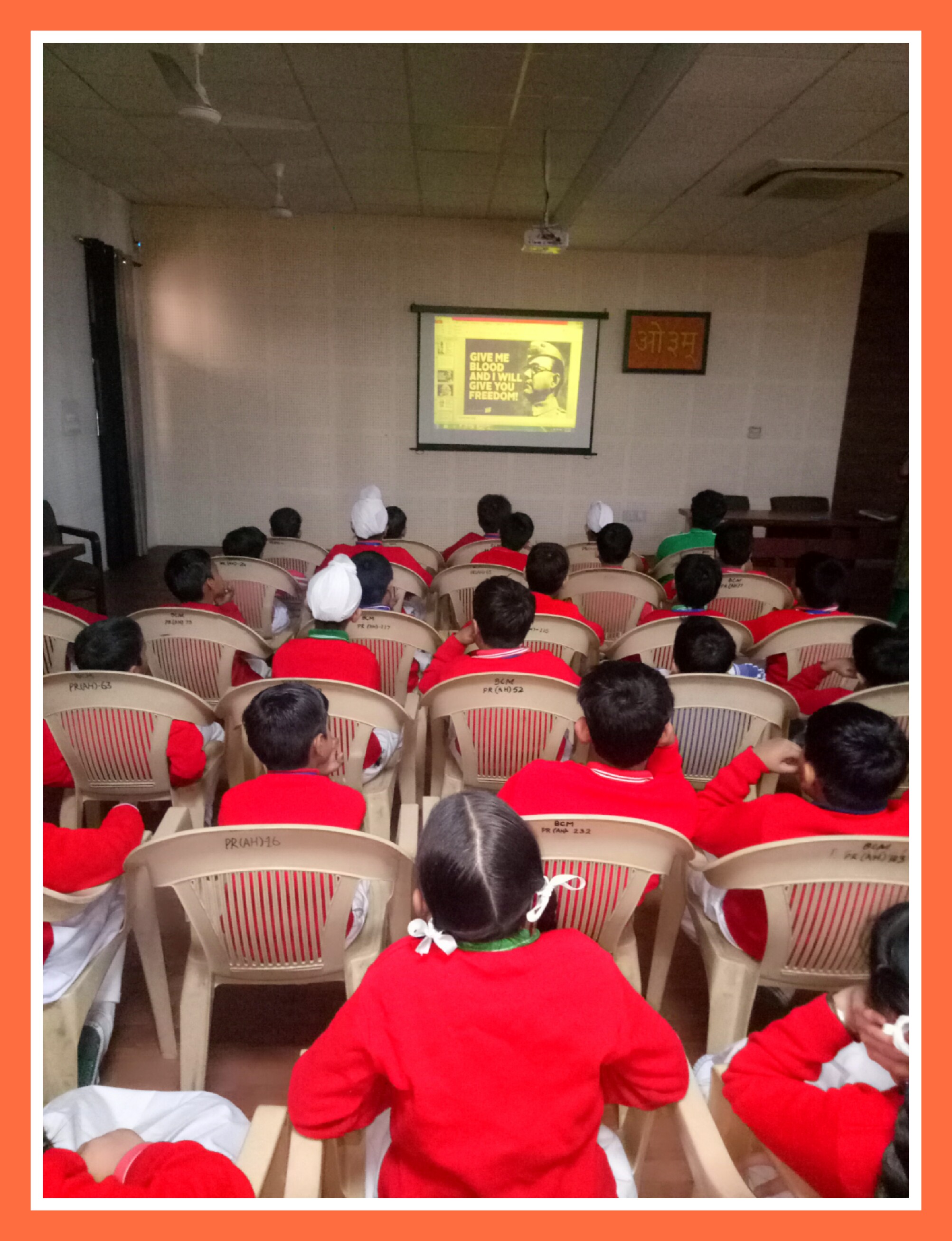 Students getting acquainted with the knowledge about National and International Heroes by the subject experts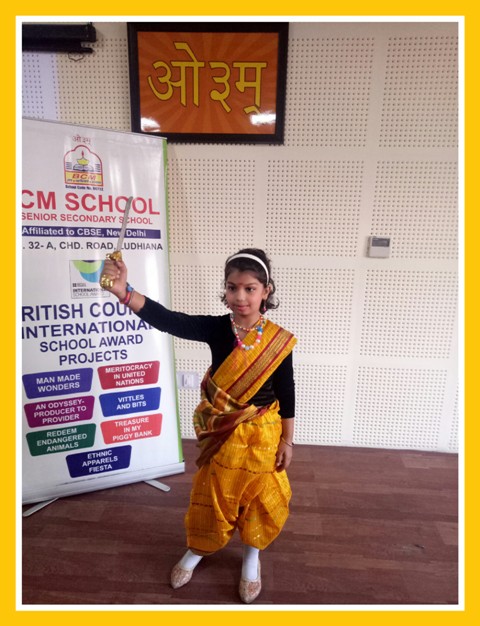 Depicting the Queen of Jhansi – Rani Lakshmi Bai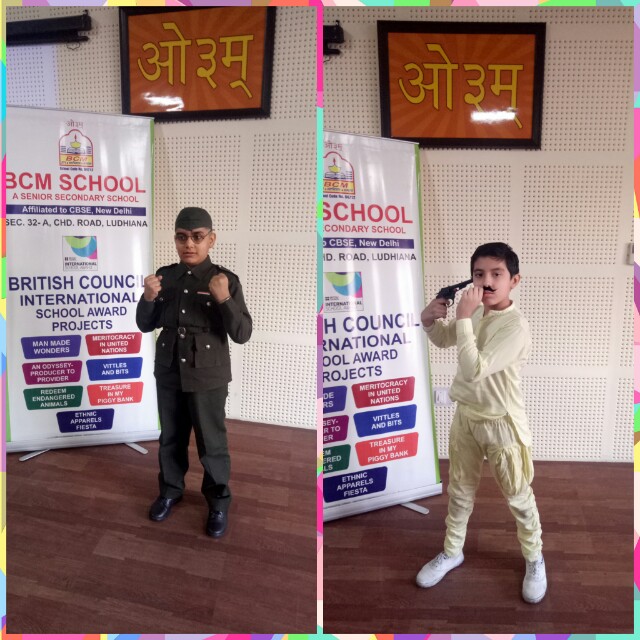 Students showcasing the characters of Netaji Subhash Chandra Bose and Chandra Shekhar Azad.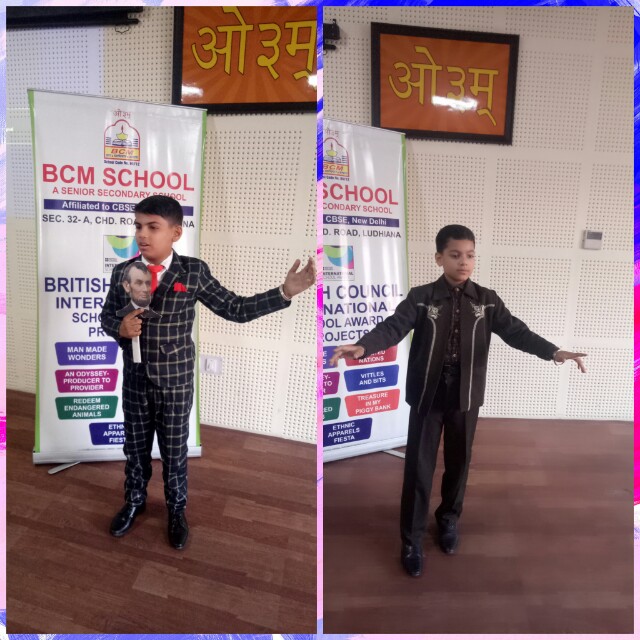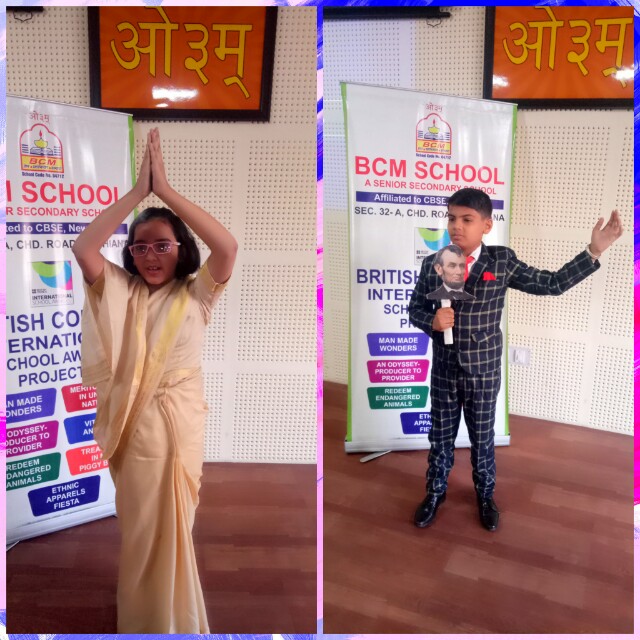 Students playing the role of their favorite National and International heroes- Abraham Lincoln, Indira Gandhi & King Martin Luther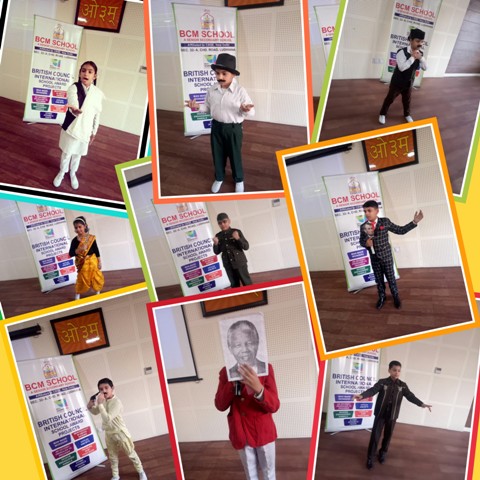 Students trying to emulate their favorite National and International heroes, leading to their character development.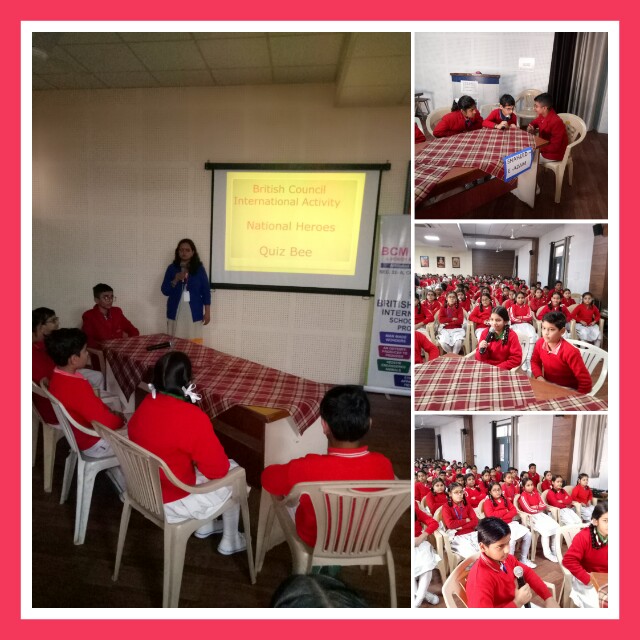 Enthusiastic students all set to participate in Quiz bee on National and International Heroes.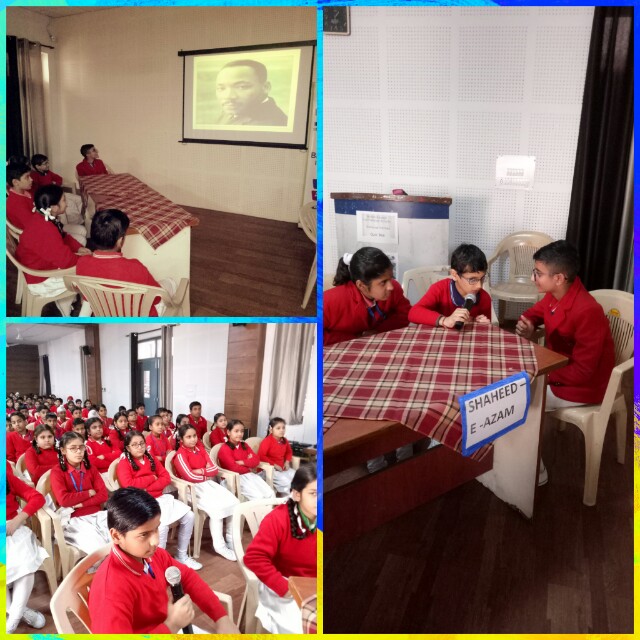 Teams trying to identify the picture in picture recognition round.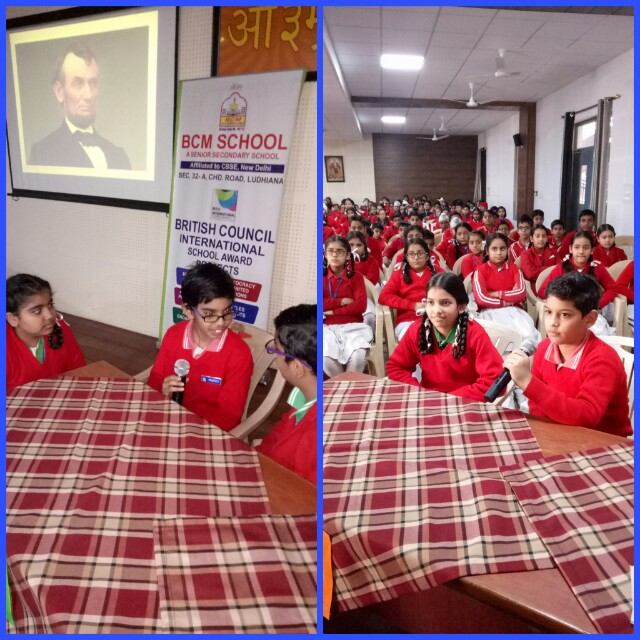 A moment of confusion- team mates discussing before giving the final answer.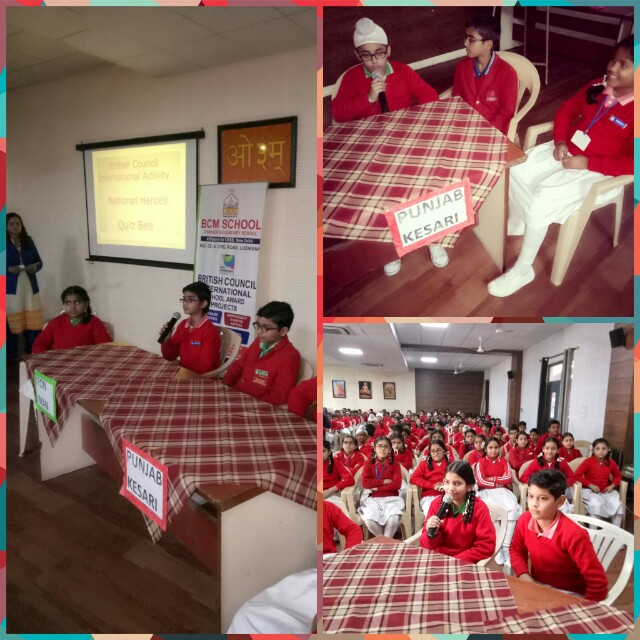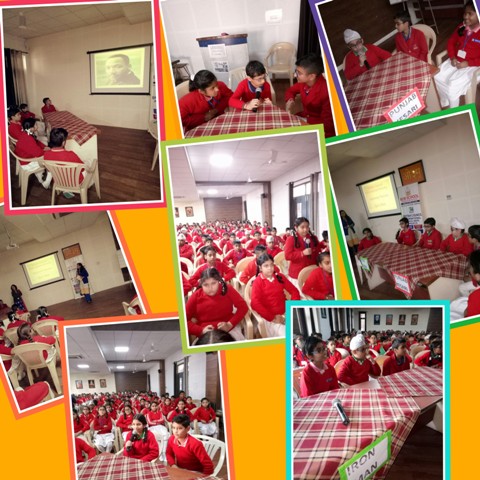 Snaps-shots of teams and audience actively participating in the quiz 'Know our Heroes'.
MEDIA COVERAGE OF THE ACTIVITY